Solid Ideas for a Smaller Garden
By George Graine, Fairfax Master Gardener
"The tiniest garden is often the loveliest"
—Vita Sackville-West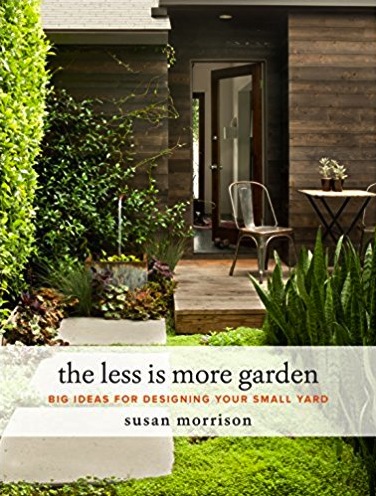 If you are considering downsizing your home, this will probably mean less yard work. If you desire to mow less lawn or even eliminate the lawn, this too means less yard work and maintenance. And if this is your goal then a new book, "The Less Is More Garden: Big Ideas for Designing Your Small Yard" by Susan Morrison (Timber Press, 2018), is the right tonic to avoid a hortache. Here you will find a cornucopia of ideas that are bound to change the way you may have gardened in the past. Reading garden designer Morrison's book, you will surely find inspiration as well as discover how to enhance a small-sized garden. Her book shows how a small space can yield a big solution. In other words, less is more, plus you can be assured of her practical and helpful design ideas. What does the author mean by "small" in the world of landscape design? She defines this as a quarter acre or less including the house footprint. To borrow from the book preface, the-less-is-more garden approach means:
Less space, more enjoyment
Less effort, more beauty
Less maintenance, more relaxation
Less gardening-by-the-numbers, more YOU
There is no right or wrong way to garden! The garden you want is one that you can enjoy because it is designed to maximize the available space relative to your lifestyle needs. Your garden should make sense for you and your family and visiting friends. Think in terms of your needs rather than by being bound to a specific and detailed conventional design from a landscaper's text book.
To be clear, getting serious about design can be confusing and even intimidating. Take a deep breath as you wonder and then consider, in a logical manner, the practical aspects of a garden that will reflect your needs. Morrison makes an important point regarding three key factors. These include (1) scale and proportion in order to make the available space feel balanced, (2) circulation, meaning how folks will maneuver in the space and (3) comfort. These