The Garden Landscape Fusion
By George Graine, Fairfax County Master Gardener
To own a bit of ground, to scratch it with a hoe, to plant seeds, and watch the renewal of life – this is the commonest delight of the race, the most satisfactory thing a man can do.
— Charles Dudley Warner in My Summer in a Garden (1870)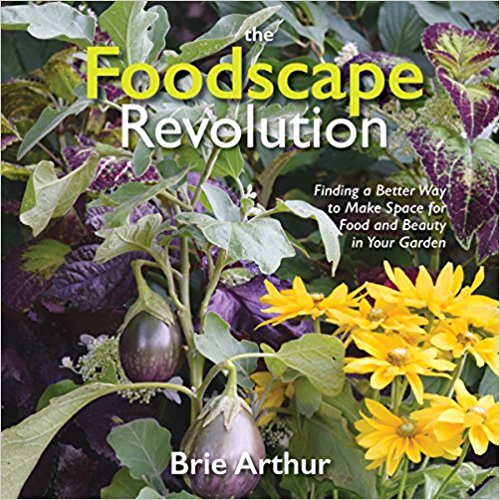 Most books about vegetable gardening treat this part of your property as an exclusive area that must be maintained in an exacting manner. Where does this garden commandment come from? Of course there are scads of books that enrich us with vegetable gardening lore but does it have to be that way? Have you ever seen a protest sign that reads –"Vegetables Only?"
Just like the in vogue "gate" moniker, horticulture has two that are well known as "scape" — land and hard. Brie Arthur has added to our scape lexicon with "foodscape." You might also see a similar term called agriscape in other writings. In 2017, St. Lynn's Press published The Foodscape Revolution: Finding a Better Way to Make Space for Food and Beauty in Your Garden. This is a book that is filled with many instructive color photos, plant lists and several illustrative drawings. Here you will quickly realize that edibles and most garden plants (including trees, shrubs, hedges and more) can co-exist in close proximity.
The Foodscape Revolution is one of those unusual books that will both entertain and empower you if you are willing to consider a different way to use your landscape. Think beyond your existing landscape and consider a different and new version of seasonal gardening as well as another approach to design. Aside from producing groceries, foodscaping will help to address some of the problems associated with sustainable land management strategies and biological diversity.
If you see mulch between plants, stop and ask yourself if it is feasible to grow food there. Do you have at least six hours of sun? — Bingo! A beautiful landscape can now be bountiful as well. Of course, one must be realistic because a neighborhood Homeowner Association may frown or more likely take some sort of adverse action on this venture. It may take some ingenuity, arm twisting or whatever to show how integrating edibles with ornamentals can actually enhance the neighborhood. Surely veggies are not like invasive plants, with the exception of squash (joke).
There are three main parts to this book. Part One is called "The Model." In about half of the book the author explains the "basics of transforming your landscape into a foodscape with plant selection and tips for design, maintenance and care." Additionally, the open areas around your house are noted and divided into three growing zones. These are not to be confused with the horticultural hardiness or heat zone maps that you are probably familiar with. A suggested percent for ornamentals and edibles are provided for each of the zones. Of course, recognition is given to ornamental plants, and in fact they are necessary. They are usually a permanent part of the landscape as they offer color, texture, biodiversity (noted above) and, not to be left out, those for pollinators.
Part Two is all about foodscaping projects. This is where you will learn about "some designs and planting suggestions that you can use or adapt to your specific space and taste." This part also includes several alternatives to in-ground growing such as a planting in a fire pit (think four-season gardening) and growing in containers. You may want to experiment in the "ponics" world of aero, aqua and hydro. Only seven pages are devoted to these three growing "systems" but it is something to consider and not just as a novelty.
Part Three helps to figure out what to do with your bounty. This is the yard-to-table explanation of the book. In about 30 pages, you will learn a lot about harvesting, processing, preserving and preparing what you have grown. All are important tips as the author covers the best method for each type of edible.
In summary, perhaps Brie Arthur should be known as a veggie visionary. She explains with great clarity how you can take an underused garden space (e.g., noted above as mulched areas without plant material) and grow food. Looking at your empty space in this way makes a lot of sense. You are actually allowing your garden to become more useful as well as ornamental.