How To Save $$ One Plant at a Time
By George Graine, Fairfax Master Gardener
You know you are a Master Gardener when budget-wise plants come before groceries.
No need to put your landscape project on hold when you know your paycheck should increase, 401K and IRA accounts should grow and 529 college savings plan should yield additional future funds. As a result of this "windfall," perhaps your excuse for not improving your landscape is no longer valid. Just in time for the new growing season, a new book has been published called The Budget-Wise Gardener by Kerry Ann Mendez (St. Lynn's Press, 2018). This is a down-to-earth book without a lot of horticultural jargon. The book sub-title says it all — "With Hundreds of Money-Saving Buying & Design Tips for Planting the Best for Less."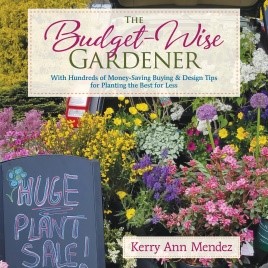 After reading this book (less than 200 pages with oodles of color photos), you may be surprised to find numerous money-saving tricks and secrets of the retail nursery business and how you can score some good deals. This is not to say that retail garden stores have a nefarious bent, but rather to indicate how you can become a shrewd plant hunter and simultaneously keep a lot of cash in your pocket. You will be presented with much meaningful information that goes beyond the obvious. The thrust of the book is how to become a thrifty gardener, where you can save on some plants and splurge on others that really make a statement. An additional interpretation of the Kerry Ann gardening mantra could be how to spend less money and time on yard maintenance all the while keeping in mind sustainable practices such as saving water, attracting pollinators and using "friendly" pesticides.
The primary contents of the book cover flowers, ornamental grasses, bulbs and flowering shrubs. Purposely left out are vegetables, herbs, conifers and trees; however, the concept of being a budget-wise gardener applies to these plants as well. You will learn how to master the art of knowing a great deal including making smart plant choices for maximum color and less maintenance. Of course, you need to know and understand several basic plant requirements, especially as they relate to your own landscape. Briefly, this means sun or shade, soil pH (soil test) and plant