Plant Clinics
Helping you solve your plant and landscape problems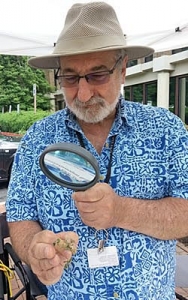 Take advantage of in-person answers to gardening questions, plant and insect identification, soil tests, and more.
To make this service convenient for Fairfax County residents, we host over 400 plant clinics every year. From May through September, Fairfax County Master Gardeners operate weekly plant clinics at various libraries and farmers markets throughout the county. Our volunteers at these clinics offer free, unbiased, and research-based advice on selecting and caring for your ornamental plants, vegetables, and lawn.
In addition, Fairfax County Master Gardeners provide printed fact sheets covering a variety of gardening topics, from plant selection, diseases and pests, to various aspects of plant and lawn care.
Soil testing
We provide soil test kits and instructions for their use at all plant clinics. You collect the sample according to the instructions and mail it to the Virginia Cooperative Extension Service at Virginia Tech for chemical analysis of soil nutrients and measurement of pH. The analytical report includes recommendations for the addition of nutrients based upon what you plan to plant. For the $10.00 (plus postage) fee, the soil test is an invaluable and money-saving gardening tool as a first step in beginning or improving a lawn or garden.
From May through September visit a plant clinic at local farmers markets and libraries throughout Fairfax County. The 2019 Plant Clinic Schedule contains a complete listing of 2019 clinics, locations, and times. We will be back in May 2020.