Giggles Through Year-Long Gardening
By George Graine, Fairfax Master Gardener
"It seems to me an utter waste of words to argue whether vegetables, if of one genus or an identical kind, are species or varieties." — William Herbert in "Amaryllidaceae, with a Treatise on Cross-Bred Vegetables"(1837)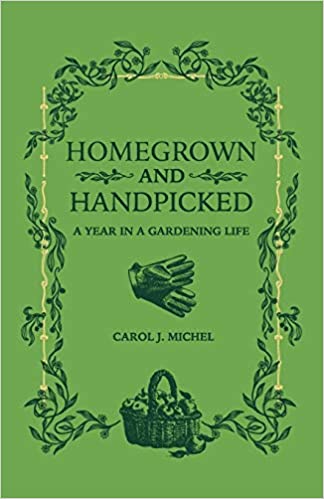 Carol J. Michel, author of "Homegrown and Handpicked: A Year in a Gardening Life" (Gardenangelist Books, 2018) introduces you to aspects of gardening that perhaps heretofore did not cross your mind. This book is another in a series of her prolific writing skills. All of these books are built around meaningful and easy to understand horticultural information, and each incorporates the author's sense of humor. The Michel essay style shines through 137 pages and includes 36 chapters. Her contributions to garden lore with more than a touch of mirth is a welcome respite for many of us on what seems to be a never-ending staycation. As noted horticulturist Dr. Allan Armitage (aka Dr. A.) says, "If one wants to see the demise of gardening, keep making it complicated."
The first chapter sets the stage for a year in a gardening life (the book subtitle). Starting with "Happy New Year, Gardeners," Michel addresses every person who reads this book. In just one example she writes, "I resolve that I will not buy any more plants unless I know exactly where I will put them in my garden." Does this sound familiar? Does the expression "Been there, done that" come to mind? Of course, from your own experience you know this is pure fiction. If your attention has been piqued, let's move on to some other chapters.
The next chapter is a spot-on "review" of the older gardener, and it is also applicable to a gardener with a disability. Nevertheless, if you are a young gardener, there are a number of points that make one realize that gardening is a more than useful pursuit regardless of age. The green industry has provided us with a zillion help mates aside from asking another human being to dig a hole for whatever needs to be planted. In other words, if you garden you will be fit in both body and mind and even spirit. So, the message is — forget age because gardening will keep you forever young.
Here is an entirely different problem: What to do with tender houseplants that stayed outside once the weather warmed up. You will find the definitive (?) answer when you read Michel's discussion about "Club Hort," an exclusive and all-inclusive resort where houseplants will enjoy the finest of amenities in the parlor. This is just the first step before being moved to a safer haven such as a sunroom, if you are lucky to have such a place, or wherever houseplants dwell once the weather cools down. By the way, Club Hort is the ideal place for houseplant TLC. That could take the form of up-potting the little darlings because they may have outgrown their pots. Add a dab of fertilizer, too. Also, not to be forgotten, a good cleaning is always in order. This will help to avoid an invasion of critters that lurk in the soil and on plant parts. Know that Jack Frost is around the bend and can sneak up on you when you least expect him, so bring those houseplants indoors. For sure, this is easy-peasy. It is like a one-and-done when compared to mowing the grass during each growing season.
The chapter on growing tomatoes, America's favorite vegetable, is a hoot. Let's not get into a rhubarb (old baseball expression) about whether the tomato is a vegetable or a fruit. Do we really care? That is for scientists to sort out. Her discussion about tomatoes is short and sweet (no pun intended) especially when contrasted with a zucchini explosion. As you might surmise, perhaps based on your own experience, Michel's stories go beyond giggles about secreting yourself because the Zucchini Lady is walking up your driveway. Of course, Michel absolves you of all guilt. On the other hand, if you are the zucchini grower and overrun with this squash, just let them grow and grow so that eventually you can compost them.
Along the way, Michel includes a few suggestions on "Travel Tips for Gardeners." Be patient because soon you will be able to take some trips, hopefully sooner than later. She says the "bonus" of travel away from your own garden is how your garden will look upon your return. Could this be overly optimistic? Think weather, your "garden care giver," of course weeds and maybe a branch that broke during a storm and crushed part of your garden. About those weeds, surely you have given some thought on how to control them. Trying to get rid of those *-<'s before they take over the garden is life changing or is it a challenging experience? This is especially true if you read how lawsuits regarding certain "potions" destroy weeds and maybe any living plant that contains chlorophyll.
The juxtaposition of the chapters "The Last Act Begins" followed by "If You Don't Love Your Garden in the Fall" is a reminder to consider the benefits of four-season gardening. Think of your garden as a stage where the scenes are constantly changing. Every spring and summer is the beginning of a new show. Then fall and winter are upon us with leaves to be raked or blown or cut up into itty-bitty pieces. But there is more. Fall is for looking at the wonderment of seed heads and the branch and bark structure of trees. Fall is also the ideal time to take stock of your garden. Get a head start on next year by planting shrubs and trees now before the ground freezes. You will be ahead of the hot and hotter spring and summer weather. Your new plants will have started to settle in and produce new roots. In other words, you will be in sync with Mother Nature. And soon — winter. This is not a time to be stressed out. It is a time to look at the ice crystals on the tree branches that you admired just a few months prior. Help the birds by installing a heated birdbath. Welcome wildlife and also remember to keep the bird feeders stocked. Winter is also a time to recalibrate, take a break, kick back and read "Homegrown and Handpicked." You will not regret it because as noted earlier, Michel's writing is humorous and chock full of good gardening advice. One last thought. Since winter is a slow time (compared to the other seasons), this is an opportunity to dream about some new garden plan or project. At the same time be practical in terms of your time, your energy and of course your budget.
If you enjoyed reading a few vignettes from this book, then you should consider three other books by the same author. All are published by Gardenangelist Books. For more Michel, her blog is maydreamsgardeners.