Problem Yard to Personal Showplace
By George Graine, Fairfax Master Gardener
Renovate — To renew materially, to restore to vigor, to refresh, to regenerate.—Oxford Universal Dictionary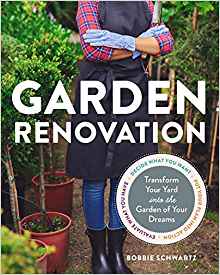 It is amazing what you will find when dictionary gazing because there are so many words beginning with "re." For example, in addition to the above are replace, relocate and rebalance. In regard to "re," almost 30 years ago Dr. Bonnie Lee Appleton, a Virginia Tech professor, wrote Landscape Rejuvenation: Remodeling the Home Landscape. As one might imagine, since the late 1980's the green industry has developed a much greater plant palette so that landscape designers and landscape architects are given an opportunity to consider garden makeovers that are more relevant and refined
Have you made a major modification to your home such as a new kitchen, bathroom, porch or deck? Perhaps it is now time to consider a modification to your landscape. Look around your neighborhood. Does this give you ideas on how to make some changes if you lived at a nearby house? Now look at your own property. Does it need some kind of pick-me-up? If your answer is in the affirmative, then how do you plan to confront this dilemma? Perhaps you might exclaim something like this — Good grief! I know I should do something but where do I start? Is this going to be a DIY project or will I need some professional help? Not to fret because certified landscape designer Bobbie Schwartz has decades of experience and supplies help with her book, Garden Renovation: Transform Your Yard Into the Garden of Your Dreams (Timber Press, 2017). Chances are she will probably answer just about all of your concerns without a lot of technical jargon.
Garden Renovation is not a step-by-step how-to landscape manual. This is a book that contains many ideas for readers to consider regarding the how-to and why they should change their existing landscape. Maybe just to change some overgrown plants that are blocking the windows or the front door will make a tremendous difference. This book incorporates many design ideas from simple to elaborate for practically any type of garden makeover with excellent advice. It is not an overstatement to note that with the help of Garden Renovation you will turn a problem-filled yard into what here-to-fore might have only been a dream. More than 300 color photos will stimulate your creativity, and many show before and after garden renovations.
Realizing that a complete makeover may not be realistic in terms of time and expense, Schwartz recognizes that the entire design process and eventual installation is a gradual process that could take several years to complete. She provides helpful and sensible information that will enhance your existing landscape space. Is it time to reflect on what areas are in need of a change? As an example, consider what gardeners like to call the four-season garden. By using broadleaf evergreens and conifers you could have color year round. Add to this some red or yellow twig dogwood shrubs. Incorporating the funky Harry Lauder Walking Stick makes a winter statement. How about a weeping ornamental tree such as pussy willow, cherry or redbud? All are outstanding specimens that may deserve a place in your landscape. Any of these plants will enhance the winter garden and some have flowering value, too. Surely this type of thinking coincides with the right plant–right place gardener's mantra.
As you take a walk about your property, no doubt you will see some problem areas that are fairly easy to correct with a pruner or lopper, whereas others may require some help for a variety of reasons. Regardless, you need to tackle problems in a logical, safe and efficient manner. By carefully evaluating your existing plantings, you need to figure out what to keep and what changes to make that will enhance your property. It is also important to consider your landscape beyond aesthetics. Here are several suggestions that you may want to consider. Knowing this in advance will help the design process.
Specialty garden — roses, dwarf conifers, herbs, hostas, bonsai collection
Entertaining and relaxation — outdoor kitchen, patio, fire pit, hot tub
Children and/or adult play area
The book has six sections, and all provide sensible and reasonable tips that should help you to improve your landscape without busting your budget. Follow the information contained in the book, and it will guide you by turning your problem yard into something you could only have imagined. In order to get a flavor of what you will find in the book, below is a very brief outline of each section:
Choosing Change — Recognize what needs to be updated (e.g., overgrown plants, pathways and how to start the design process).
Understanding Landscape Essentials — Recognize the environment (soil, sun or shade, awareness of animal life).
Working with Hardscape Elements –Understand different landscape elements you can incorporate into a design.
Assessing and Choosing New Plants –Overview of plant types including trees, shrubs, evergreens, hedges, perennials, ornamental grasses, vines and bulbs. (For additional information, check your local library and/or the Internet.)
How to Put Your Plans into Action — Emphasis on recognizing your limitations and how to understand when landscape designers and landscape architects can help with your project.
Success Stories — Some before and after landscape projects.
A final thought. Take advantage of the bibliography at the end of the book. More information on garden renovation is included under 21 references as well as many on-line resources that the author visited for information while writing her book. Garden Renovation will help you to decide how to proceed with your project and ultimately make your tired garden into your own personal showplace.