Beyond A Pre-Planned Landscape
By George Graine, Fairfax Master Gardener
"In laying out a garden, the first and chief thing to be considered is the genius of the place."
—Alexander Pope, letter to the Princess of Wales (1716)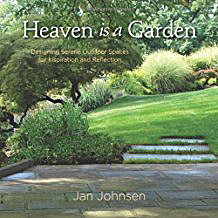 If you had occasion to browse through the garden section of a bookstore, you may be surprised and perhaps inspired or, in worst case, confused because of the many landscape design books. The diversity of thought and approach to the how and why of landscape design can be overwhelming. Some of these books include serious admonitions such as sustainability, biodiversity and ecological principles. Say what! Others take a more direct and easy to understand approach, even as simple as a total pre-planned landscape. Some books on the shelf include those with long plant lists indicating sun or shade plants, easy care, pruning requirements, watering regimen, fertilizing and more. Or, as this article suggests, a less esoteric book makes good sense. "Heaven is a Garden: Designing Serene Outdoor Spaces for Inspiration and Reflection" by Jan Johnsen (St. Lynn's Press, 2014) is a delightful treatise that may guarantee a feel-good way to your own personal landscape.
By what authority does one claim to have the best or ideal approach for a landscape? Of course, this is a foolish question. Is the candy store approach the way to go — a little of this and some of that? Good grief! A landscape designer would become apoplectic if you did not plant at least three or some other odd number of the same plant. How about a hodge-podge garden, or more gracefully put, a balanced plant collectors dream garden? Johnsen's book is a good read and more importantly is extremely helpful if you are giving thought to planning a new garden or renovating one that already exists. She includes a fine mix for the written word together with color photos that enhance the points being introduced. It is really a design book for non-designers. Not to be esoteric (that word again), but her book places emphasis on the idea of creating your own personal space that is good for your own well-being.
Perhaps you may find it strange to suggest that it might be best to read the last chapter in the book first. The reason is that it will open vistas of learning why heaven is a garden. Then move to the first chapter and you will be even more inspired and able to reflect on the possibilities of a personal garden where you can relax. Throughout the book you will encounter a fascinating approach that is unlike other landscape design texts. Here you will note a blend of well researched modern and historic design practices, some that go back thousands of years. How interesting is that! The point is to have a landscape that feels balanced and harmonious to you. How you bring the concept to application is the message that leads to a word in the book subtitle — serene. Surely each of us can appreciate this kind of garden. This will show how a garden can be relaxing in such a way so that you can enjoy Mother Nature to the fullest.
Balance and harmony working hand-in-hand with all the elements on your property are the ideal. For example, noting the trees, shrubs, light, and even boulders and an outcrop (rock formation) will re-introduce you to what you could create or modify as a result of some horticultural change. "Heaven is a Garden" shows you how to explore key landscaping elements. It is difficult to sum up or improve upon the author's descriptions for each chapter, so instead below are the direct quotes from the introduction to her book.
The Power of Place — considers the ways terrain can be molded and accented to create sanctuary and meaning.
Creating Music for the Eye — shows how shape, line and proportion can unify a garden.
Calling on the Trees — addresses the enlivening influence of our arboreal friends by deciphering the language of the trees.
The Magic of Water — delves into water's mystery and the many ways it enhances an outdoor environment.
A Rock's Resonance — explores the powerfully evocative qualities of stone.
Color-Nature's Catalyst — reveals the therapeutic effects of color and light in a garden design.
Do you have a vision of a heavenly garden? It is not important to think size but rather to consider the emotional connection you desire to have with your own landscape. After all, you are the one who is creating your own garden paradise. Your garden should be designed with three basic features –simplicity, sanctuary and delight.
Personal last thoughts: Color is often considered as the piece de resistance for a garden. To be sure, this is the reason many folks garden but as noted above, a garden can be enhanced by a variety of features in addition to color. Of course, we love color! Think clothes, television and art. Color is all around us and we often, though not always, have a positive reaction to it. Of course, colorful flowers are important and do more than look pretty. Think how color attracts pollinators, entices birds to feed on seed heads, signals insects to imbibe on nectar, and many other ways it plays a role in the garden. Marketing researcher Louis Cheskin writes, "The right colors are silent music; the wrong colors irritate and disturb." Can anybody argue with that?
Johnsen provides us with an interesting synopsis of traditional, scientific and anecdotal comments on the effects that major colors have on us in addition to a discussion about color therapy in the garden. She writes about the use of red, orange, yellow, green, blue, purple, violet and even the sometimes popular white garden. Why no mention of the black garden? To be fair and by way of contrast regarding the use of color, Keeyla Meadows wrote an awesome book "Fearless Color Gardens: The Creative Gardener's Guide to Jumping Off the Color Wheel." This book might put a landscape designer's hair on fire. Mary Engelbreit's "Outdoor Companion" is like a cornucopia of inspirational, delightful, folksy and imaginative garden designs. And the soon to be published "Buffalo-Style Gardens" is about creating a quirky, one-of-a-kind private garden with eye catching designs. Here you will see gardens in all their whimsy. In other words, these books show how to change the ordinary garden space into something uniquely your own. Isn't it wonderful that we have the ability to make so many choices?
To summarize in a single sentence, the idea behind Jan Johnsen's book is to help you create a glorious outdoor space that is perfect for "inspiration and reflection" so goes the subtitle of "Heaven is a Garden."