Having It All in the Living Landscape
By George Graine, Fairfax Master Gardener
Plans should be made on the ground to fit the place, and not the place made to suit some plan out of a book. — William Robinson in The Garden Beautiful(1907)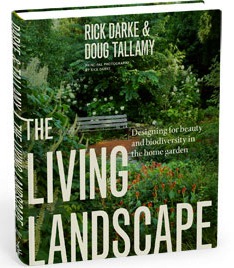 Sometimes when you are perusing the bookstore clearance shelf and come across a big, flat gardening book with many photos, you think it would make a nice gift for Aunt Maude. Not this one; keep it for yourself. The book is entitled The Living Landscape: Designing for Beauty and Biodiversity in the Home Garden (Timber Press, 2014). Authors Rick Darke and Doug Tallamy, both recognized horticultural experts, collaborated extensively although each from different perspectives. They provide information that shows how to use your own landscape for a variety of purposes such as play, privacy, entertaining, bringing in wildlife, a vegetable patch, etc. while at the same time creating sound ecological space that can also be beautiful. You can do it, too! This book is not another how-to-design text but rather provides superb guidance that goes beyond basic horticultural information. In addition, the authors embrace the aforementioned ecology. When entomology, biological diversity, and landscape design are skillfully included under the covers of one book, it delivers a powerful and useful message.
Let's stop here for a moment because skipping to the back of the book reveals an invaluable resource. Here you will find 77 pages of charts indicating landscape and ecological functions for all of the plants featured in the book. Of these, about 40% are Mid-Atlantic plants. The chart headings include botanical and common name, ecological and landscape functions (using purposeful multiple symbols) and some additional notes. This section alone is worth the price of the book.
The Living Landscape is perhaps the best written work for horticultural nirvana available today. The more than 700 color photos, mostly by Rick Darke, help illustrate the written word in a truly outstanding manner. Most importantly, the book clearly recognizes the ecological movement that is taking place alongside more traditional horticultural teachings.
Initially you might think of this book as a shill for native plants. Not so! Rather it indicates how natives can and should be combined with a carefully balanced mix of non-native plants. Think diversity and how plants will be able to function in an ecological system. In essence, and at this point, this becomes your own living landscape and one that can be teeming with beauty and diversity all at the same time. As Tallamy writes, "Creating beautiful landscapes that are also functional is the point of this book."
In sum, The Living Landscape is not a how-to-design landscape text. It shows and teaches in an inspirational and strategic way how to make and maintain your landscape so that it is more than just being pretty.