Herb Spirals: A New Garden Feature to Love
By Marsha Goldberg, Fairfax Master Gardener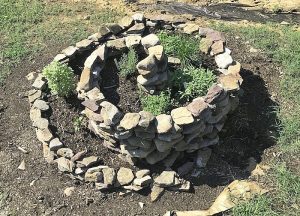 Last spring, Fairfax County master gardeners were lucky enough to hear Michael Judd, author of Edible Landscaping with a Permaculture Twist, at their annual meeting. Among the ideas that Judd, who lives and works in Frederick, Maryland, discussed were herb spirals, small structures that he has been installing in gardens throughout the area. The spirals, usually made by stacking stones and filling them with dirt, rise in the middle, creating a perfect environment with excellent drainage for herbs. The placement of the herbs depends on their needs, with heat-loving Mediterranean herbs placed near the top where they can catch the sun and dry out, and hardier cold-tolerant herbs such as chives near the bottom.
Frankly, I filed the idea in my "maybe later" cache but coincidentally, when I reported for volunteer garden duty at Bailey's Elementary School** (more about that later!), the garden manager told me that building an herb spiral was on her wish list.
"I can do that!" I said, happy to have a project. It took a few days to gather up the materials and lay it out but within two weeks we had a beautiful herb bed that far exceeded my expectations.
Here's how we did it. I did some research using Michael Judd's book, pictures on Pinterest and a few videos on YouTube. The concept is very simple and we could have done it without those resources but the visuals helped us see the variations that people have built and gave us ideas to develop the plan. We wanted to use stacked stone; Judd recommends using about one-and-a-half pallets for a spiral but we found that ours came out to be just the right size using only one pallet that we bought at a local