Master Gardeners Are Guys, Too
By Donn Meindertsma, Fairfax Master Gardener Intern
I remember a late uncle for his passions for Packers football, deer hunting, restoring classic T-Birds and … growing award-winning roses. One of these things, it always seemed to me, was not like the others. Sure, if you look for similarities among these hobbies, you might find some: vying for a horticultural blue ribbon reflects the competitive spirit of gridiron contests and bagging bucks. Still … flowers? They took up his entire backyard! I didn't quite understand.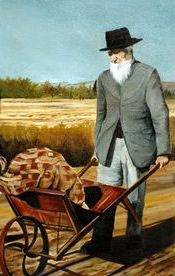 For many years, I thought that Master Gardeners was a club about flowers. Not really meant for guys, even those inexplicably fixated on roses, and mainly suitable for women of a certain age who enjoy sharing tips on dahlia arrangements. Or, maybe it was a club for tree huggers. It was, in either case, not of interest to me.
I was wrong on all accounts. Now in my third year as a Master Gardener intern, I understand (and am glad) that the program has nothing to do with bouquets. Instead, the program has taken me on a deep dive into the world of horticulture. We learn practical, trustworthy information about the outdoor world, and in turn we share our budding wisdom with the community.
Although nothing about Master Gardeners should necessarily appeal to one gender more than the other, it is a fact that men are underrepresented in our local association. The type of flower-club misconception I had may account for much of the gap. Maybe men, generally speaking, spend enough time in the great outdoors as it is. In households where yard work is the so-called man's job, "gardening" might be considered more a chore than a hobby.
Whatever the causes, there is no reason why men should be less interested in the program than women. It is, at bottom, an educational one. I finally joined because my own modest yard frequently puzzled me. The lawn alone raised a slew of questions: Would I ever be able to grow grass in my mostly shady backyard? When am I supposed to fertilize? And with how much and what kind of fertilizer? Beyond that, I had plenty of garden flops. Too I often was asking myself, why would a plant that had seemed perfectly happy just up and die? I may not have lost sleep over these problems, exactly, but I certainly wondered what I was doing wrong. The Master Gardeners are teaching me much about how plants work, what makes them thrive and what I should and should not do to them.
There was an article not long ago in a popular magazine that featured the long-time athletic director and head football coach of the Georgia Bulldogs, Vince Dooley. The article contained an undertone of bemusement that a football coach might also be a Master Gardener: "To the surprise of everyone he knows — including himself — Vince Dooley has devoted his life to plants over the last twenty years, becoming a master gardener along the way." Apparently, it was a class on woody landscape plants that got Dooley hooked. Now, he has a couple of plants named after him.
So, guys, be like Coach Dooley. Check out Master Gardeners. There's a lot to learn. It might not lead to a passion for blue-ribbon-winning roses, but that's probably not what you're aiming for anyway.
Resources
Between the Hedges with Vince Dooley, Tommy Tomlinson, Garden & Gun, Aug/Sept 2017