How Many Elements Make A Garden?
By George Graine, Fairfax Master Gardener
"Miscellaneous — plural of miscellany: Pieces brought together to form a volume."
—The Oxford Universal Dictionary on Historical Principles, 3rd Ed.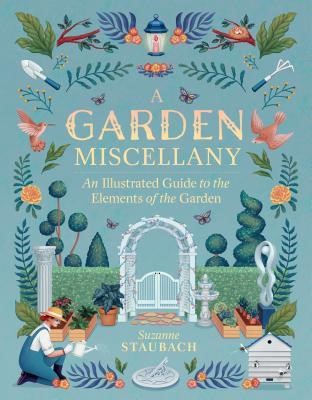 Have you gone to a candy store where the choices are overwhelming? If you answered in the affirmative to this question, then you will understand how a new book "A Garden Miscellany: An Illustrated Guide to the Elements of the Garden" by Suzanne Staubach and illustrated by Julia Yellow (Timber Press 2019) can help you discover new ways to enhance your garden. How many elements should be included or become a part of your own quarter acre or more? Note that all gardens have one thing in common, which is, none of them are the same! Look at your garden and, without a doubt, you will see a lot more than plants (and weeds). Surely you will probably see something else. If so, you will now understand how the word "elements" is used in this book because it is not a plant design text.
When was the last time you considered how many elements are included in your garden? Do you have an approximate number that comes to mind? Could it be a dozen, two dozen or more? Staubach has taken the idea of garden miscellany to a level not seen elsewhere or in other garden books. In a select bibliography of 62 books as part of a 200+ page book, there are 85 distinct and related parts of a garden. Each element is explained as a one or two page story, in alphabetical order, starting with Allée and ending with Yard. Of course, it is doubtful that anyone would incorporate anything close to all of the elements discussed for their garden; however, it is interesting to consider many of them within the parameters of your own garden. The author provides answers to questions that you might never have given a moment's thought to consider. Yet, they are included within the context of an historical perspective, that is, history to evolution to today. This makes the book even more exciting to read as you can skip from element to element, and it seems as if the choices are endless.
Many facts and anecdotes are provided alongside each garden element and that adds to the interest of each element discussed. This is like a reminder of the current commercial, "What's in your wallet?" You will learn so much about the difference of garden elements that this may give you pause. Also, this may provide you with something like an "aha" moment so that you might say to yourself something like, "Self — that's a great idea," or "Why didn't I think of doing (building) that?"
"A Garden Miscellany" helps you to consider your own garden, make some changes and capitalize on the myriad elements discussed between the book covers. As an