Diagnostic Lab
Where samples submitted by residents are analyzed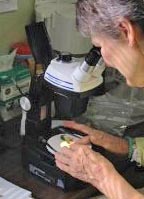 The Fairfax County Master Gardeners operate an award-winning diagnostic laboratory year-round. This unique service is staffed by senior Master Gardeners who have many years of experience in solving plant, pest, and disease problems.
Residents submit sample of pests, diseases, or unhealthy materials to the lab for identification and treatment recommendations. Plant samples are also submitted for simple identification, too.
Submit a sample
At this time only photos of insects and diseases may be submitted to email mgfairfax@vt.edu
There are three ways to transmit a sample to the Diagnostic Lab:
Bring your sample to any Fairfax County Library and ask the staff to send it to the County Extension office in the Pennino Building. Please note this service is not available from libraries which are not run by the Fairfax County government.
Bring your sample to one of our Plant Clinics that operate from May through September.
During Master Gardener duty hours at the Help Desk, bring your sample to the Virginia Cooperative Extension Office on the 10th floor of the Pennino Building in the Fairfax County Government Center.
Your sample will be analyzed at the Lab and a detailed diagnosis with recommendations will be emailed or mailed to you. This may take up to 2 to 4 weeks, depending on the time of year and the backlog of requests. Usually the turn-around time is much less.
Samples are sent from the library to the laboratory through the County interoffice mail. It is important that you bring your sample suitably wrapped for this journey. Plant specimens should be sealed in a plastic bag, insects in a firm plastic container. Complete the Laboratory Diagnostic Sheet, and place the sheet and the plastic container in another envelope or box. Do not place the Lab Sheet inside the same plastic bag with the sample. (Moisture from the sample often renders the sheet unreadable.)
Collecting and packing samples
For disease/problem diagnosis
Provide a sample showing both diseased and healthy tissue on the same sample. For proper diagnosis, samples should have stems or branches 6″ long or longer. Individual leaves are usually not sufficient. Include a small handful of fine feeder roots if you think the plant can spare them.
For plant identification
Provide as many parts of the plant as possible – the entire plant if it is small enough. In addition to stems and leaves, include flowers or berries if available. Attach a description of the plant's size, shape and growing habits. For example, does it drop its leaves in winter, is it a 5-foot shrub or a 1-foot groundcover, etc. If no flowers are available, describe when it last flowered and what kind of flowers it had.
For Sod
Submit a sample of sod 6-inch to 8-inch square from the margin of the affected area that contains both healthy and problem grass. Do not send grass that is already dead. Send the entire root system – it may be 2 or 3 inches deep. Place sod it a plastic bag inside a sturdy box. For identification of a lawn weed, do not send sod but follow instructions above for plant identification.
For Insects
Collect one or more complete insect specimens and place them in a sturdy plastic container, such as old pill bottle or film canister, with diluted rubbing alcohol. Soak insects overnight to preserve them, then drain off ALL the alcohol and seal. Do this BEFORE you bring the sample to the library. Do not send insects in tissue paper or envelopes. Do not tape insects to a card or paper.