Thanksgiving in the Herb Garden
Parsley, Sage, Rosemary, and Thyme (and Chives!)
by Elaine Homstad, Fairfax Master Gardener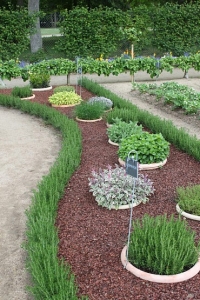 An herb garden brings pleasure to the eyes as well as the palate.
Your summer herb garden is a joy! Great herbs for the summer garden include basil (of course!), which is an annual, as well as tarragon and oregano, which are both tender perennials, meaning that they will come back in the spring if they are planted in a sunny, protected location.
But…what about your fall garden? In Fairfax County, we generally do not get our first frost until late October or early November. And even then, if your herb garden is in pots, or in a semi-protected spot, there are several herbs that will easily survive until Thanksgiving. Great herbs to have in your garden are parsley, sage, rosemary, thyme and chives. These are all perennial herbs, except the parsley which is a biennial. It is generally better to treat it as an annual, though, and replant it every spring, as the second year growth may not be as flavorful.
So, which ones do you chose, and how do you plant and care for them?
Here are some excellent choices to include in your herb garden that are hardy enough to survive a little frost, and still be harvested into December:
Parsley
You can choose either the curly or flat leaf parsley. Italian flat leaf parsley (Petroselinum neapolitanum) is the preferred one for cooking, since it is more flavorful. Curly parsley (Petroselinium crispum) is commonly used as a culinary decoration, but can also be used in cooking, if a less peppery, but still distinctive, flavor is desired.
Sage
There are many types of culinary sage. Sage can be quite prolific, and you need to be aware of that when you plant it. Be sure to give it plenty of space. Additionally, it should be pruned back by about half (ideally by using the leaves) in July. You will still have a very bushy plant in November. For culinary use, the best type of sage to have is Common sage (Salvia officinalis). Pineapple sage (Salvia elegans), which bears lovely red flowers, is attractive to bees and hummingbirds, and has lovely citrusy (they really smell like pineapple!) leaves. It is not, however, a variety that will withstand frost.
Rosemary
Upright rosemary is the best type to have. The primary species is Rosmarinus officinalis. Although it is classified as a perennial for Zones 8-10, if it is in a sheltered spot that gets ful