Sensing the Garden in Every Season
By George Graine, Fairfax Master Gardener
"The way it works is this: summer is hot and winter is cold and the other seasons fall in between. Gardeners who every year go off the deep end at the first slight variation in mean temperature should try to get that sentence fixed in their heads." —Henry Mitchell (1923-1993)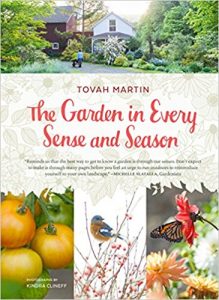 Have you ever wondered why gardening magazines often feature benches and the iconic Adirondack chair? Could it be because they are suggesting you need to introduce yourself to the garden as your personal oasis? Set that aside for a moment. Today we are fortunate to have Tovah Martin, a star in the world of garden writers, who teaches us with her recent book about "The Garden in Every Sense and Season" (Timber Press, 2018). In an essay-like style, Tovah provides a different way to think about your garden. Kindra Clineff accompanies this book with beautiful color photos that add a welcome pictorial to the text.
The key point of the book is to get you to know your garden through your senses and to understand what is happening as the seasons change. Tovah's coming to one's senses introduction to the text is a wonderful starting point for a garden story about her own garden. The first line of the book introduction is "This is the story of a nose and how I followed it through the year." That sets the stage for what is to come. Surely with such an opening statement, your curiosity should be more than a little aroused.
Tovah does not scold readers in her book because they often make unfulfilling to-do lists or other head scratching schemes. She wants you to have a personal relationship with your garden instead of frowning because so much of your time is spent on weeding, pruning, digging holes, raking leaves, fertilizing, watering, eliminating critters and more. Do you recognize this as yourself? If this is you versus nature, then perhaps it is time to develop a change in attitude and purpose and take time to enjoy your garden as a creation for your senses. The reason to read and understand what Tovah teaches us is to be made aware of the feel-good nature of her gardening advice. To be sure, it is based on her years of gardening experience and reflections of her own garden.
The aim of this book is to inform without being preachy. Unlike many other gardening books, Tovah provides a perspective that differs from the often "thou shalt" type of gardening a