Landscapes: Beyond The Ordinary
By George Graine, Fairfax Master Gardener
"Plans should be made on the ground to fit the place and not the place made to suit some plan out of a book."—William Robinson in "The Garden Beautiful" (1907)
WOW… It's hard to write about a book when the introductory chapter exclaims it is "A New Kind of Garden: livable, relatable, original, free spirited." Good grief! What is there left to write? After this initial brain drain, I found a lot to explain how gardening can be a wonderful and fun experience. Let's start with a question out of the blue. When you think about buffalos what comes to mind?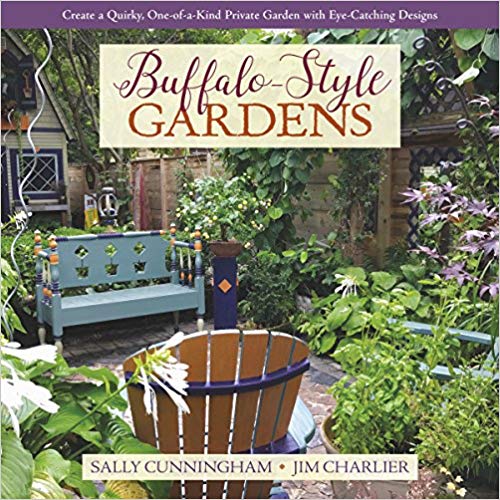 Perhaps football (Buffalo Bills), the western plains where buffalo roam or the Buffalo soldiers of long ago. Have you heard about "Buffalo-Style Gardens"? That is the title of a book published in 2019 by St. Lynn's Press and authored by Sally Cunningham and Jim Charlier. As an aside, Buffalo, New York will celebrate its silver anniversary of garden walks. Buffalo and environs are home to some of the largest residential gardens on private tour in North America. To be sure, these are very different types of landscapes than those portrayed in most other landscape texts. Something wonderful must be happening in Buffalo because more people tour these gardens than the combined attendance of two Disney parks.
If you are a big fan of color in the garden then consider the sub-title of "Buffalo-Style Gardens" that teases what is between the covers — "Create a Quirky, One-of-a-Kind Private Garden with Eye-Catching Designs." This is a book where one can see how riots of color and whimsy are personified. The book goes beyond the usual use of colorful flowers and shrubs as it includes the total integration of other plant material with hardscape (e.g., walkway), furniture (perhaps repurposed) and more. In this regard, psychologists use the word gestalt. Funk & Wagnall's Standard Dictionary of the English Language defines gestalt as an arrangement of separate elements of experience, emotion, etc., in a form, pattern or configuration so integrated as to appear and function as a unit that is more than a simple summation of its parts. That nails the essence of a Buffalo-style garden.
In just a few words, a Buffalo-style garden is where creativity meets design that is forever changing. It is all in how it looks and not what the plant is. The authors refer to this as a "… garden design laboratory for our 21st century sensibilities and lifestyle." Perhaps you should think in terms of being smart in a way that creates a garden that captures your imagination. Regardless of what appears to be quirky creativity, the fact remains that a nice-looking garden should adhere to recognizable design elements a.k.a. principles alongside of common gardening practices. This allows for the personal touch and ingenuity you most likely are seeking to achieve. You also need to key in on balance and proportion. Balance does not necessarily mean symmetry similar to a butterfly. Asymmetry is so much more creative and surely not boring to look at. As for proportion, this is essentially the relationship of plant materials to your house. For example, if you have seen an overgrown conifer that hides a house or entranceway, you might get the idea that someone did not check the growth habits of the plant. Now the plant does not fit into the available space. Also, you must be cognizant of uncontrollable environmental factors because they are forever changing. You need to learn about these changes because change is inevitable — think weather, seasons and even climate.
The chapter featuring "Your Yard and Garden Wish List and Needs Assessment" is critical to the achievement of a Buffalo-style garden, the reason being that the gardens included in the book are for the most part installed and maintained by homeowners. Of course, they may have had help from landscape designers, garden coaches and folks in the trades, such as a fencing company. The fact remains that gardeners need to know their own strengths and limits. In other words, recognize the difference between a wish list and an assessment, i.e., be realistic regarding what you want to do and what you can do in order to care for your garden. You need to be honest with yourself by recognizing your personal limitations and budget if you need outside help. This will go a long way toward your ultimate satisfaction for the garden you created. A line in the book is very apropos — as Polonius said to Hamlet "To thine own self be true."
If you have gotten the idea that a Buffalo-style garden has gone off the rails, nothing could be further from the truth. Authors Cunningham and Charlier came up with the idea of site premise and plant principles. This is shorthand for working with reality. Using common sense beyond the gardener's mantra of right plant — right place, and one day right purpose, you need to consider a site analysis. This is necessary in order to achieve what and where to grow any plant material. To this end the authors included many checklists that will help as reminders. All of this information is written in an easy to understand manner and without technical jargon. Following these "instructions" should result in a positive landscape experience. Design features make a major difference as the authors spend a lot of ink that helps to define your garden space when considering hedges, walls and fences. This is the big picture to an outsider, whereas the gardener is prone to look at plants. It is up to the gardener to also integrate what surrounds the garden as well as what is in it.
Toward the end of the book you will find out how to make your garden personal and how a Buffalo-style garden is achieved. Words and colorful photos do justice to the understanding of what these type gardens are all about. You too can emulate your inner being. Color up those drab Adirondack chairs, use sculpture, go to the thrift store and look for an out of the ordinary bench to color. If you are a collector of (you name it), show it off. These are all personal statements, so make this a YOU garden or, as the book says, go bold or go home.
In summary, now you know how many Buffalo, New York gardeners address the universal issues that all gardeners face every time they go outside. You too can create a unique garden. Surely it is not a Japanese-like garden, English garden, rose garden, pollinator garden or any other kind of specialty garden. Now you have created a one-of-a-kind Buffalo-style garden. Good for you or as noted at the opening — WOW!