Landscapes: Beyond The Ordinary
By George Graine, Fairfax Master Gardener
"Plans should be made on the ground to fit the place and not the place made to suit some plan out of a book."—William Robinson in "The Garden Beautiful" (1907)
WOW… It's hard to write about a book when the introductory chapter exclaims it is "A New Kind of Garden: livable, relatable, original, free spirited." Good grief! What is there left to write? After this initial brain drain, I found a lot to explain how gardening can be a wonderful and fun experience. Let's start with a question out of the blue. When you think about buffalos what comes to mind?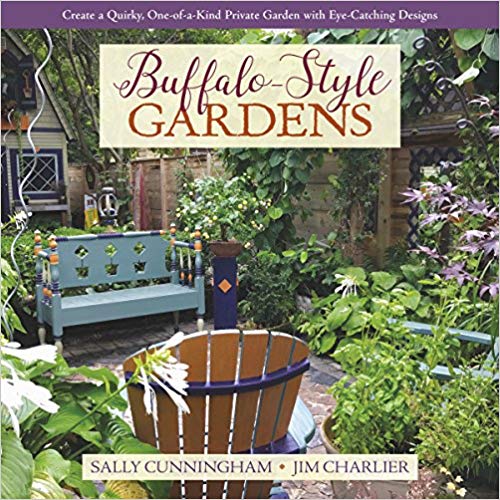 Perhaps football (Buffalo Bills), the western plains where buffalo roam or the Buffalo soldiers of long ago. Have you heard about "Buffalo-Style Gardens"? That is the title of a book published in 2019 by St. Lynn's Press and authored by Sally Cunningham and Jim Charlier. As an aside, Buffalo, New York will celebrate its silver anniversary of garden walks. Buffalo and environs are home to some of the largest residential gardens on private tour in North America. To be sure, these are very different types of landscapes than those portrayed in most other landscape texts. Something wonderful must be happening in Buffalo because more people tour these gardens than the combined attendance of two Disney parks.
If you are a big fan of color in the garden then consider the sub-title of "Buffalo-Style Gardens" that teases what is between the covers — "Create a Quirky, One-of-a-Kind Private Garden with Eye-Catching Designs." This is a book where one can see how riots of color and whimsy are personified. The book goes beyond the usual use of colorful flowers and shrubs as it includes the total integration of other plant material with hardscape (e.g., walkway), furniture (perhaps repurposed) and more. In this regard, psychologists use the word gestalt. Funk & Wagnall's Standard Dictionary of the English Language defines gestalt as an arrangement of separate elements of experience, emotion, etc., in a form, pattern or configuration so integrated as to appear and function as a unit that is more than a simple summation of its parts. That nails the essence of a Buffalo-s