New FCMGA Interns Join Our Ranks
On January 9, 2019, the Fairfax County Master Gardeners Association (FCMGA) welcomed 48 new interns at the Welcome Reception and Orientation held at the Pennino Building. During the meeting the 2019 class of new interns, 25 morning and 23 evening, were welcomed by several FCMGA Board members, introduced to their mentors, and helped establish the 2019 mentor/mentee teams. The 41 mentors included 2nd and 3rd year interns and Certified Master Gardeners (CMGers). Many new friends were made during the evening as the 2019 class of new FCMGA interns was welcomed aboard. New interns take ten classes for three years as well as spend time on the Ready Set Grow! or Home Turf programs. They are required to work at plant clinics during this time before being certified as Master Gardener.
Hogweed In Virginia
We might have heard the commotion in the news media about the Giant Hogweed (Heracleum mantegazzianum) found in Virginia for the first time, along with the severe effects it causes in humans. It was first found growing as an ornamental that someone planted in Clarke County, Virginia. As expected, the public along with a handful of Master Gardeners have developed hogweed hypochondria, suddenly imagining it growing throughout Virginia.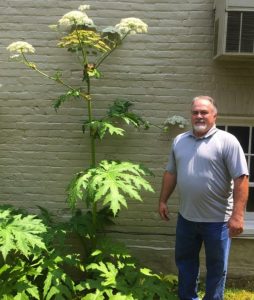 To be fair, it is a dangerous plant. The sap reacts with sunlight when exposed to our skin to produce severe blisters that can last for months. The U.S. Forest Service warns that "sap in the eyes can cause temporary or possibly permanent blindness" — although no cases have been recorded in medical literature.
It has been growing in the U.S. for decades, found and monitored in New England and the Mid-Atlantic, and is a problem in the Pacific Northwest. Maryland knows and monitors 21 sites as of 2013 in its efforts to eradicate it. One location was found in the District of Columbia at the Bahrain Embassy grounds. After the the latest searches, it was found in a handful of places in Virginia — all in cultivated locations planted there by gardeners. So far, none has been found in the wild. In addition to Clarke County, Rockingham County, Fauquier County, and Alexandria had specimens growing.
"There's not cause for widespread worry. It's growing where it's been planted from what we've seen. We see little evidence of it widely spreading," said Virginia Tech's Michael Flessner, an assistant professor and extension weed science specialist. Giant Hogweed is a Tier 1 noxious weed on Virginia's Noxious Weed List. A Tier 1 classification means the weed was previously unknown in the Commonwealth. As an early detection invasive plant, the state's goal is to eradicate it before it becomes established.
There are several look-alike plants such as cow parsnip (in the same family) that have prompted loads of calls to our Master Gardener Help Line. If you still suspect the plant after reading the descriptions and characteristics, please follow these instructions to report it to the Fairfax Master Gardener Lab.
Do not touch the plant.
Describe its location.
Send us some photos — cell phone photos are good:

Picture of the overall plant with someone or something in the picture for scale
A closer-up picture of the stem of the plant
A closer-up picture of the underside of the flower (if it's in flower)
Visit the Virginia Noxious Weeds List for more information on hogweed and other dangerous weeds in Virginia.
Bulletin on the Boxwood Blight
Virginia Cooperative Extension Bulletin
Current situation in Virginia, 10/6/17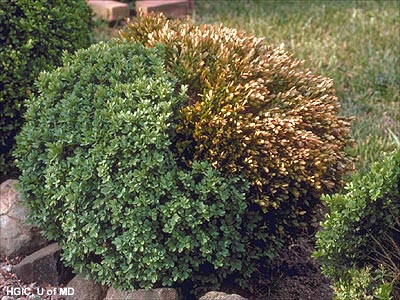 According to records of the Virginia Boxwood Blight Task Force, to date boxwood blight has been diagnosed in over 70 locations and approximately 30 counties in Virginia. There are likely additional undocumented incidences of the disease, for example, if no sample was submitted for diagnosis through Virginia Cooperative Extension or the Virginia Department of Agriculture and Consumer Services.
Although boxwood blight has been diagnosed in many counties in Virginia, there is no indication that it is widespread throughout any Virginia county. This is not unexpected, based on the current understanding of the biology of the boxwood blight pathogen. Boxwood blight is typically initially introduced into a new location on infected boxwood or other susceptible plants (e.g. pachysandra and sweet box). Holiday greenery containing infected boxwood can also introduce the disease into a new location. However, boxwood blight is not spread long-distance via wind currents. Therefore, one need not panic even if the disease has been found in one's county. However, if the disease has been identified in one's neighborhood, then there is a heightened risk of local spread of the disease.
After the initial introduction of boxwood blight-infected boxwood (or pachysandra or sweet box) into a location, neighborhood boxwood plantings are at risk for boxwood blight. There are a number of means by which the sticky spores of the fungal pathogen can move through a neighborhood. For example, they can be spread via contaminated pruning tools, spray hoses, equipment, vehicles, clothing, shoes, or infested leaves spread by leaf blowers. Wildlife (including birds), insects, domestic animals or humans that have been in contact with the spores may also move the infective spores through a neighborhood. Movement of the pathogen by many of these means has been documented in locations in Virginia.
To safeguard Virginia boxwood plantings and production, we call for community awareness and efforts to avoid accidental introduction of boxwood blight into new locations and prevent local spread of boxwood blight:
Purchase boxwood, pachysandra and sweet box only from a nursery that is listed as a member of the Boxwood Blight Cleanliness Program and/or from a retailer who sells only boxwood produced by nurseries in the Boxwood Blight Cleanliness Program.
If boxwood blight is suspected, immediately contact your local Extension office, which can submit a sample for confirmatory diagnosis. Where boxwood blight is confirmed, it is strongly recommended to immediately remove and double bag all diseased plants and fallen leaves as well as contaminated soil underneath the planting. The bagged waste should be removed to a designated landfill to mitigate disease spread to other boxwood in the landscape and other properties nearby.
Employ only landscape professionals who are aware of how boxwood blight spreads, since boxwood blight can be introduced to properties through landscape maintenance activities. The fungal spores and fallen diseased leaves can be moved on tools, boots, tarps, hoses, clothing and vehicles. Landscape professionals should have a stringent sanitation plan in place to decontaminate tools, equipment, vehicles, clothing, shoes, etc. between landscape locations and other practices that minimize the chance to move the disease through landscaping activities.
Adhere to best management practices outlined for boxwood blight, which are detailed in PDFs available at the Virginia Boxwood Blight Task Force website.
Resources: the Virginia Boxwood Blight Task Force website and Best Management Practices
Refer to the Virginia Boxwood Blight Task Force website for further information on boxwood blight. We recommend that you familiarize yourself with the appropriate Best Management Practice (BMP) for your situation. The BMPs are available on the website as PDFs.