Show Mom a Green Good Time in Fairfax County
By Jo Anna Natale, Fairfax Master Gardener
If the mom you are celebrating this Mother's Day is a garden lover, you don't have to cross borders to treat her to an outing that will indulge her green obsession. Fairfax County has more than a few teaching gardens, parks and historical properties that are bursting with blooms in May, making them fun and fulfilling destinations for Mother's Day weekend. Take a picnic — or cap the outing with brunch, lunch or dinner out — and the mom in your life is sure to feel well feted.
Here are five local spots worth visiting. All are family and photo friendly, and some are even Fido friendly — as long as Fido is leashed, and you clean up after him.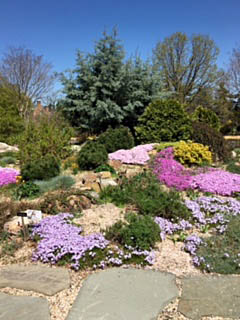 Green Spring Gardens
Go to Green Spring not just to enjoy plants but to learn about them, too. The suburban 30-acre setting features 27 demonstration gardens that provide ideas and labeled planting suggestions for a native plant garden, townhouse garden, children's garden, vegetable garden and much more. The property also offers two ponds, wooded trails, a gift shop and a lovely gazebo for photos. A Mother's Day tea will be served at Green Spring's historical house, which dates to 1784. (For reservations, call 703-941-7987.) Listed on the National Register of Historic Places, the house features gardens originally designed by noted landscape architect Beatrix Farrand. If picnicking is more Mom's style, feel free to bring a full basket and a blanket (no grilling allowed). Admission is free.
Green Spring Gardens. 4603 Green Spring Rd., Alexandria, Va., 703-642-5173.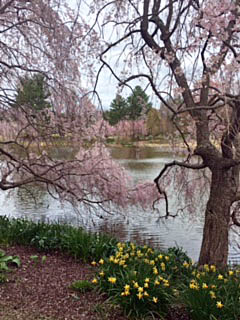 Meadowlark Botanical Gardens
If she doesn't know about it already, the mom in your life will thank you for introducing her to this park. Tucked into a residential area in Vienna off Beulah Road, Meadowlark offers 95 acres of peace, beauty and garden inspiration. In addition to three ponds, two gazebos, wooded trails, a children's garden, a wetland garden, a woodland garden, 20 varieties of cherry trees and a panoply of perennials, Meadowlark boasts a Korean Bell Garden with a three-ton, engraved, bronze bell handmade in South Korea. Particularly lovely in May are Meadowlark's lilac blooms, abundant peony beds and the native plant collection. On Mother's Day, staff members will lead a 2 p.m. tour of the native collection that is free with the park's admission price. Picnicking is permitted in designated areas; dogs are allowed on the perimeter trail only.
Meadowlark Botanical Gardens. 9750 Meadowlark Gardens Ct., Vienna, Va., 703-255-3631.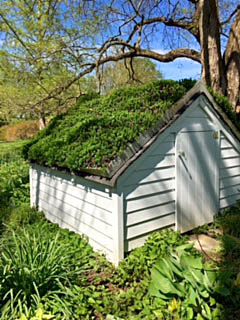 River Farm
Think historical property with gorgeous vistas over the Potomac River, and Mount Vernon might first come to mind. But River Farm also fits the description and is a satisfying destination for the garden-minded. Once owned by George Washington, River Farm is home today to the American Horticultural Society and features 25 acres of calm greenery to observe, enjoy and educate. Be sure to check out the 200-year-old Osage orange tree, the four-acre meadow garden, and a children's garden with structures inviting child's play amid a plethora of plants. Also on the property is a set of gates that fronted the White House in the early 19th century. Picnics and well-behaved pets are permitted. Note that if your visit is to celebrate Mom, go on Saturday (9 a.m. to 1 p.m.) or during weekday hours, as River Farm is closed on Mother's Day and on Sundays, in general. Admission is free.
River Farm 7931 East Boulevard Dr., Alexandria, Va., 703-768-5700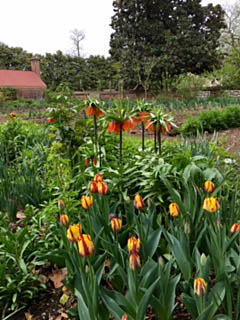 Mount Vernon
Here is what one middle-aged mom had to say on a recent visit to the gardens at George Washington's home: "Oh man, this is my kind of place; I could hang out here all day!" While Mount Vernon's mansion and museums are fascinating, its gardens evoke this sort of enthusiasm in May. The Upper Garden suggests that Washington knew the value of bringing pollinators to his vegetable plots, surrounded, as they are, by dense and colorful flowerbeds. The Lower Garden combines the practical need for growing food with pleasing garden design and highlights Washington's inclination to espalier fruit trees. If Mom wants real detail about our first president's agrarian ways, opt for the 11 a.m. guided garden tour, offered daily. Mother's Day activities include "Martha Washington" gifting lavender sachets to all moms and an outdoor garden shop selling historical plants grown on the plantation. No food or drink besides water is allowed on the grounds; dogs are not permitted. There is an admission fee, plus an additional cost for the guided garden tour.
Mount Vernon 3200 Mount Vernon Highway, Mount Vernon, Va., 703-780-2000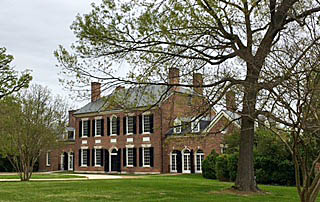 Woodlawn Plantation/Pope-Leighey House/Acadia Center for Sustainable Food and Agriculture
A short drive from Mount Vernon, you'll find Woodlawn Plantation and the Pope-Leighey House. Both deserve visits for their own very different stories — Woodlawn's mansion was built by George and Martha Washington's relatives, and the Pope-Leighey House is a Frank Lloyd Wright-designed home. At 2 p.m. on Mother's Day, Woodlawn is offering a bouquet-arranging class incorporating flowers from the historical property, followed by a full-service tea (reservations and fee required). But while you are there, be sure to check out a third, very garden-oriented occupant on this land: the Acadia Center for Sustainable Food and Agriculture. Strolling through Acadia's open gardens would appeal to moms looking to learn more about composting or organic vegetable growing. Part of Acadia's nonprofit mission is to teach the public and schoolchildren, in particular, about healthful eating and sustainable food-growing methods. With its Mobile Market, the organization also takes produce to inner-city areas where residents have limited access to fresh vegetables and fruits. Picnicking is permitted at tables near Woodlawn. Leashed dogs are welcome outdoors. There is a fee for touring the Woodlawn mansion and/or the Pope-Leighey House; no charge to meander on Acadia's grounds.
Woodlawn Plantation/Pope-Leighey House, Acadia Center for Sustainable Food and Agriculture 9000 Richmond Highway, Alexandria, Va.. 703-780-4000, (Woodlawn/Pope-Leighey); 571-384-8845, (Acadia Center)