Trough Gardening: Making Miniature Landscapes in a Pot
By George Graine, Fairfax Master Gardener
"To conceive of a garden as a piece of 'nature unadorned' is of course a contradiction in terms…"
—Erwin Panofsky in "The Ideological Antecedents of the Rolls-Royce Radiator" (1962)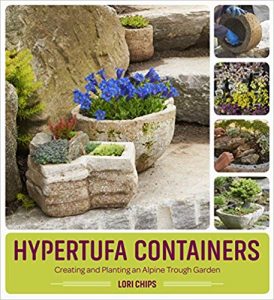 Type the word "hypertufa" on your computer, and you will probably see that a red squiggly line appears under this word. This is not a spelling error! Now enter the same word on Wikipedia or type "hypertufa pot" in your computer search box, and you will find a treasure trove of information. Next you might wonder, how can a mixture of Portland cement, perlite or vermiculite, peat moss and water eventually yield a rustic-versatile-artistic pot? It can happen! A new book, "Hypertufa Containers" by Lori Chips (Timber Press, 2018) is the go-to explanation on how to make magnificent trough gardens by using a hypertufa mix. Her book surpasses most other texts on this subject because of its thoroughness. She is a master "explainer" and employs detailed step-by-step instructions alongside superior color photos that help to visualize the pot making process. In addition, the author provides the how-to for selecting and growing small-sized plants. This is often an afterthought in other books on what to do after the pot is made. For this article the words trough and hypertufa are interchangeable.
A hypertufa pot can become a one-of-a-kind mini-landscape after it is stocked with dwarf and/or miniature plants, or in the author's words, "Trough gardening is the art of growing small plants." To avoid confusion with the current fad of fairy gardens, a trough garden does not tend to mimic a decorated landscape with the P's as in people, pets, patios and ponds. A few points on why to consider a hypertufa container include:
Create a miniature landscape that can be placed wherever it pleases you.
Build your own pot that allows you to customize it for a particular planting.
Plants can be seen up close and personal and that invites close examination.
The pot stands up to all four seasons.
Making your own hypertufa container can have many variables, and that is part of the fun. As you build a pot consider the ultimate size, shape and depth. Regardless of what you plant, think like a gardener because sun and shade will help in the determination for the eventual type of plants to stock the pot. Of course, know that cultivation is primary for your plantings. Note, too, that some horticultural planting knowledge will help to guarantee that plants will grow and thrive even when the weather is variable. Be creative! Think color, texture, size, flowers, berries and more. All of these attributes contribute to the aesthetics of a planted container.
The author lists the easy-to-find ingredients and proportions for a hypertufa mix. She also notes the why and wherefore of various types of molds. For example, these could be a reinforced cardboard box using duct tape or a plastic bowl. As you gain more experience, you can experiment with larger molds, vary the hypertufa mix (see the internet) and add colorants (often available at a box store and probably adjacent to concrete building supplies where you can purchase Portland cement (never the quick setting type). You can give texture to your pot using simple household tools, and this will enhance the uniqueness when compared to any commercially made clay pot. Most likely you already have some tools such as a screw driver, putty knife and wire scraper that may have been used for scraping paint or a metal brush for cleaning the BBQ grill.
Having learned the basics of building a trough, the author takes you on a new journey where she shows how to make a sand mold for building a trough. This approach, using the same type of hypertufa mix, frees you from a stationary mold such as a cardboard box. Many shapes can be created and the color photos are only a fraction of your own creative imagination. Note that employing the sand mold method lends itself to also creating hypertufa sculptures. Again the author provides step-by-step procedures as if you were watching a You Tube video along with word commentary. She makes an important building note, that is, "With sand molds, you must get used to a process of thinking upside down and inside out." In other words, this is the opposite of building a pot in a box as noted above. If you built a sand castle on the beach, then you should have a feel for the right consistency and dampness of the sand because this is the same starting point for a hypertufa sand mold. Keep in mind that the shape of the sand will determine the area for planting. This is the reverse of using a stationary mold.
After you have mastered how to make a trough (stationary or sand), the balance of the book is critical to your success as a gardener because it is time to plant your trough. Planting basics are not dissimilar than selecting plants for a landscape other than size. For example, consider drainage, planting depth (think root growth) and soil mix (relative to plant selection). If the trough size is large enough to accommodate an interesting rock and/or drift wood, then go for it. Suggestion — keep non-living objects natural. Now is the time when the ultimate enjoyment starts. After you have made a pot and filled it with the proper soil, it is time to plant. What to plant? The author provides about 100 pages of "plants appropriate for troughs" including planting styles. As if this was not enough information, she now comes full circle by answering some head-scratching questions in her "assorted wisdoms" section. This includes important pages on fertilizing, dealing with weeds, understanding your hardiness zone, familiarity with longevity of plants, life span of a trough and troubleshooting your creation. That's it!
In summary, "Hypertufa Containers" is the complete package of information. Reading a book about small scale gardening will result in an individualized small landscape, and this type of niche gardening is unique and satisfying. Each creation will be yours and yours alone.