Solomon's Seal, Perennial for Fairfax Shade Gardens
By Carmine Carosella, Fairfax Master Gardener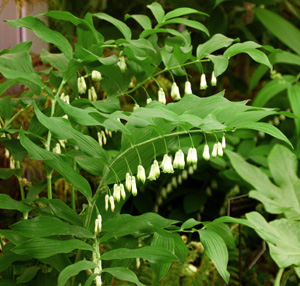 What's not to like about the perennial, Solomon's Seal, the common name for a number of species in the genus Polygonatum. Such an elegant, civilized plant that requires little care and little sun. There are more than 60 species, some only 4 inches high and others more than 4 feet. They all display interesting arching shapes, clusters of bell-shaped flowers that become blue-black berries and green or variegated leaves that turn yellow in autumn before the stems wither away in winter. And to top it off, each year the plants slowly multiply, forming clusters that beautify any shade garden. Oh yes, I failed to mention that I have never seen even one nibbled by a deer!
There are both native and non-native Solomon's Seals. One native Solomon's Seal grows as tall as 8 feet in the Appalachian Mountains. Once thought of as in the lily family, they are now classified Asparagaceae; that's right, along with asparagus. Unfortunately, only a few of the species are available locally. I recently found the Solomon's Seal Polygonatum odoratum 'Variegatum' at a garden center. On-line, however, there is a wider selection. I found one perennial plant nursery that carries five species of P. odoratum, including one with red stems, 'Ruby Slipper.' They also have a P. falcatum, 'Tiger Stripes.'
A place to observe the Solomon's Seal in all its splendor is at the Asian collection at the US National Arboretum. There you can find at least four different species of Polygonatum, including a splendid display of
P. odoratum
'Variegatum pluriflorum.' Also on display is another plant called Evergreen Solomon's Seal. Native to forests in China, this plant is actually in the genus Disporopsis, although it has the appearance of Polygonatum. By the way, if you haven't yet visited the Asian collection, then you're missing out on one of the most delightful shade gardens in the U.S.
Solomon's Seals are easily propagated by division, so find someone who grows them and ask for a clump or two. Once established, they are very drought tolerant. They also tolerate tree roots, as shown in the picture. I ha