Not Your Grandma's Daylily
By Ray Novitske, Fairfax Master Gardener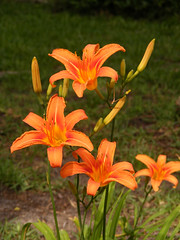 Everyone has seen the common orange daylilies growing and blooming as a weed along roadsides, in edges of meadow or farmlands, or in someone's garden. Officially known as the Tawny Daylily (Hemerocallis fulva), we have heard them referred to as ditch lilies, wild lilies, orange lilies, common lily or what my mother called them — tiger lilies. They are popular because of their showy, colorful flowers and their ease of growing without a green thumb.
Those orange daylilies are native to China and Korea. Legend states they were brought to America from the Orient by sea captains during the early Colonial period for their wives. They were widely cultivated and traded by gardeners in America and spread across the continent in the following century. After escaping gardens to the wild or thrown away, they are now found growing as a weed. Some even thought of them as native plants, because they are found everywhere in North America.
Refined gardeners eventually turned their backs on the common, boring orange daylily. But over the last few decades, plant breeders have begun tinkering with genetics and producing some new stunning cultivars. Manipulation of chromosomes began in 1937 when an alkaloid drug extracted from the fall blooming crocus caused chromosome doubling in a number of plants, among them daylilies.
Naturally there are 22 chromosomes in the daylily genome — these are known as diploids. After genetic experimentation, daylily tetraploids were developed with 44 chromosomes. Tetraploids tend to have stronger flowers, thicker leaves and blooms, more intense color combinations and increased vigor. However, they cannot be crossbred with diploid types to produce new cultivars. Over the past few decades, many new cultivar tetraploids have been introduced, with most all annual awards by the American Hemerocallis Society going to tetraploids. There are now over 50,000 daylily selections!

Daylilies are not true lilies, but belong to hemerocallis — from the Greek words hemera meaning "day" and kallos meaning "beauty". This is because each flower opens for only one day. The entire plant blooms for a longer period since there are several stalks on one plant, and each stalk has several flowers. They do not bloom all at the same time but in a progression over weeks.

Daylilies require about six hours of sunlight each day. They will tolerate part shade and grow well without fertilizers. Most bloom in mid-summer, but different cultivars bloom at different times. Selecting an early, mid, and late season type can endure a succession of continuous blooms throughout the summer.

Blooms have six petals with some shaped like spiders and some with long thin flower petals. Some can have full wide petals and appear round as opposed to star-shaped. The flower color range now includes yellow, gold, orange, scarlet, carmine, maroon, pink, rose, lavender — almost any color except blue. Did I mention they are edible? The flower buds were commonly eaten in China and Korea for centuries. Try some as a salad garnish.

Daylily roots are a fibrous system of thin tubers similar to potatoes. They can hold soil in place, making them a good choice for sloping sites. Dividing daylilies every four years or so is needed but some cultivars can go longer due to their slow growth. Dividing clumps is usually done in the spring or fall, but they are so tough that they can be divided at any time.

There has been no mention of pests or diseases, because there are few. Once in a while, thrips or spider mites can attack. Recently, daylily rust has become more common. This is a fungus that appears as a rust-colored powder or streaks on the leaves, but it can easily be managed with fungicides. All things considered, they are a tough plant to kill!
They are relatively maintenance free and are not picky about growing conditions. They are drought tolerant but do best in moist soils — like those found along roadside drainage ditches. Full mid-day sun can cause colors in the blooms to fade; partial shade helps prevent it.
Daylilies make a great plant for beginner gardeners because they are undemanding and can grow and bloom in different soil conditions. With their various colors and bloom time now available, almost all gardeners can find a place in their gardens for this dependable perennial.
References
• Daylilies in Virginia, Lynne Hightower, Diane Relf, Kate Dobbs, Virginia Cooperative Extension
Publication 426-030
• Growing Daylilies in Minnesota, University of Minnesota Extension
• Daylily, Home & Garden Information Center, Clemson University Extension
• American Daylily Society
• American Hemerocallis Society
• Plant of the Week, Tetraploid Daylily, University of Arkansas Cooperative Extension Service,
Gerald Klingaman