The Townhouse Garden
Soils for Containers
By Susan Stager, Fairfax Master Gardener Intern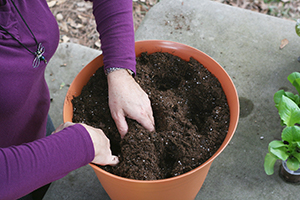 Dirt. Topsoil. Potting soil. Potting mix. Confusion abounds! Choosing soil for containers is a balancing act between providing enough air, water and nutrients in an enclosed space, without creating overly heavy containers.
If you fill your containers with dirt from the ground or bagged topsoil, they will retain too much moisture and be too heavy. Diseases and weed seeds can also grow.
You want potting soils and potting mixes. These are not actually soils and are often referred to as "soilless," meaning they do not contain the type of dirt you would find in your yard or in your outdoor, in-the-ground garden. There are all kinds of price points, and you'll be tempted by the one-dollar-a-bag potting soil, but I can share from experience that lower-quality, inexpensive mixes won't nourish your plants or drain properly, and can contain yard waste or sewage sludge (sterilized!) instead of higher quality ingredients.
Potting mixes contain pine bark, peat moss, perlite and vermiculite, discussed below. These work together to create that balancing act between water, air and nutrients.
Pine bark is lightweight, introduces air space, degrades slowly, but has a low water-holding capability.
The peat moss is in the mix to hold on to moisture. Sphagnum is a moss. The product we call "sphagnum moss" is that dried, grass-like product added to floral baskets or to the tops of florist plants. Potting mixes contain "sphagnum peat moss," which is not the same thing. Sphagnum peat moss is produced over centuries, by mosses that have lived and decomposed and accumulated. There is controversy over the mining of peat, and whether it is mined at a sustainable rate. It takes centuries to grow and releases carbon in the mining process. Most peat used in the US is harvested in Canada. Coir (shredded coconut husks) or finely shredded bark can be substituted for some of the peat to address sustainability concerns. Those are not as nutritious, so nutrients will have to be added accordingly, and transporting coir raises further sustainability concerns. Perlite is mined volcanic glass, heated to pop up like popcorn. It separates the fibers in the mix, so the soil is more porous and air can get to the roots. These are those little white flecks in the mix.
Vermiculite is also mined and heated to puff up, but its function is to hold water in the soil.
You can spend a bit more for mixes that go further: adding sand for drainage, compost for fertilization, lime to correct pH, a wetting agent to coat soil molecules so they will hold water, and starter fertilizer to get plants off to a good start.
As an indicator of quality when you lift the bag, potting mix should be lightweight, not heavy. Heavy mixes could indicate too much sand in the mix, which won't hold moisture, or water-logged bags. Wet bagged mix has pre-released any fertilizer in the mix, which will then burn your plants when used.
Consider the size of your containers. We all probably have a lot of 6-inch pots, but container gardening in small pots restricts root growth, and you end up with fewer flowers and leaves. Think in terms of containers holding several gallons of potting mixture. These produce the most attractive plants and the most flowers. They also do not require such frequent watering.
Think about whether you are positioning your containers in shade or sun. Plastic containers can become too hot in full sun for the plant to thrive. Porous containers such as terra cotta and glazed containers will dry out faster than plastic containers. Soluble salts build up on containers. so wash them off before using the container again.
Before planting, moisten the mix with warm water, in order to have uniform moisture throughout the container. Plants potted in dry mix and then watered will have inconsistent moisture levels in their root zones.
If you use a potting mix with a timed-release fertilizer, this means you don't have to fertilize at first; after all, you just did a lot of work planting and you'll want to put up your feet and admire your work! However, you will need to fertilize later. Notice from the label that the fertilizer is to last for a certain time period. Your plants will last longer than that, so you will need to begin fertilizing once that time has passed. You don't need to change the soil. You can add a controlled/slow release fertilizer to "top-dress: on the top of the soil (you don't need to incorporate the fertilizer into the soil.)
You can make your own mix, or revitalize your potting mix for re-use, by spending many happy hours researching potting soil recipes. As this is a townhouse gardening article, with an eye on budget-wise practices, I find that by the time you buy all the ingredients and give up space to store them, it is worth it to shell out the extra money for the right ingredients in potting mixes. Also, I've been cautioned that heating soil in the oven to sterilize it leaves a stench you won't soon forget.
Resources
• Bagged Potting Mixes and Garden Soils for Home Gardeners, Center for Agriculture, Food and the
Environment, University of Massachusetts, Amherst
• How to Compose a Container Garden, Merrifield Garden Center
• Gardening in Containers, University of Georgia Extension
• The Importance of Using Certified Soil, Mulch and Soil Council
• Soil for Containers, University of Maryland Extension
• Homemade Potting Mix, University of Florida Extension
• Organic Potting Mix Basics, EXtension