Planning Your Water Feature: Site Selection
By Albert V. Short, Fairfax Master Gardener Intern
You've always wanted a water feature or pond in your garden. Before you put that shovel in the ground, or contract to install a pond in your garden, what should be your thought process?
First, why a pond or water feature? What are you trying to achieve?
Is it the look and feel of water in the garden? A pond is a liquid tranquilizer; it's highly addictive and non-prescription!
Is it simply an architectural feature to enhance the garden design?
How will it integrate with your existing or planned garden design?
How much space do you have, and how much are you willing to devote to a pond?
Is it to attract birds and wildlife?
Do you want fish and aquatic plants?
Whatever you install must be maintained.
For simplicity, this article will review two basic styles of water features: a natural pond, (sometimes referred to as "Asian") and a formal or "European" style feature.
It all starts with site selection. What do you have to work with? When you look at the site, which is normally the garden behind your home, first consider what's possible given the site conditions that you cannot change. How large is the space? Is it flat or sloped? Is there a low spot where the water collects? That's not where you want to put your pond basin.
Access considerations to the site will drive the design. Can you get an excavator in to dig the pond basin, or must it be dug by hand? If you dig a hole in your rear garden, it produces a lot of soil. Where is it going to go? For example, a 5 feet x 10 feet x 2 feet deep basin generates 100 cubic feet (about 4 cubic yards) of soil. In this area, most of the generated soil is clay.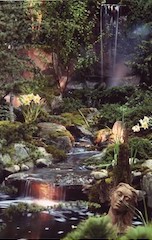 Consider the impact on the existing landscape. Trees have extensive root systems, and i