Making the Most of Fall Seasonal Decorations
A New Life for Pumpkins, Chrysanthemums, Gourds, Indian Corn and Straw Flowers
By Elizabeth Cornell Fake, Fairfax Master Gardener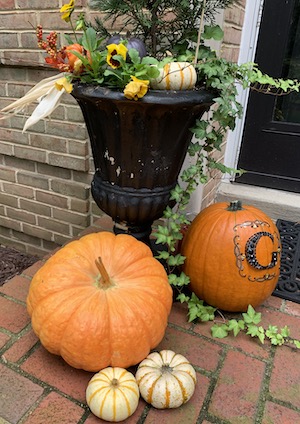 As we transition from summer to autumn, seasonal decorations begin to show up on neighborhood doorsteps and tabletops. Some of the most popular — pumpkins, chrysanthemums, gourds, Indian corn and straw flowers — dominate in colorful splendor for about eight weeks before being displaced for other holiday decorations. Rather than sending them to the trash can or compost heap at season's end, you can extend their life into the new year. Here are some guidelines for making the most of these seasonal fall favorites.
Pumpkins
Starting in September, the pumpkin is the most popular fall decoration through early December. Unknown to many is the fact that pumpkins can be cured and stored for up to six months extending the life of a seasonal favorite well into the winter and beyond. For store bought pumpkins, bathe the pumpkin in a solution of ten parts water and one part bleach, coat the exterior with petroleum jelly and rub off the excess with a soft cloth. If there are any gouges in the exterior of the pumpkin, repeat the application of the petroleum jelly one or two days later to get a good seal.
If you grow your own pumpkins, harvest when the plant stems have turned brown, cutting about 4 inches from the base of the squash. Do not carry the pumpkin by the stem as that will injure the soft tissue at the top of the plant. Store in a sunny dry space for two weeks. At the end of two weeks, turn the squash upside down and continue to store it for another two weeks. At the end of the month, coat the outside of the pumpkin with olive oil to harden or cure the skin. Move it to a dry storage area to rest and place it on a rack covered with newspaper until you are ready to use it for pies, bread, soup or casseroles.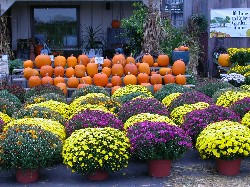 Chrysanthemums
When purchasing seasonal "mums," select plants that are the perennial varieties, Chrysanthemum x morifolium, rather than the annual, Chrysanthemum multicaule. Perennial Chrysanthemums have wide and deeply notched leaves, whereas annual leaves are strappy and thin. Deadhead the blossoms after the plant has finished blooming, determine where you want the plant to be in your garden and install it into a sunny garden spot with good drainage, Cut the stems back to 2 inches above the ground and insulate for winter with leaves or mulch. Watch your fall favorite emerge again in the spring.