Straw Bale Gardening
By Elizabeth Cornell Fake, Fairfax Master Gardener
Here is an interview with Leighton Jones, FCMGA Intern, who has been Straw Bale Gardening for the past six years.
What made you decide to start Straw Bale Gardening?
I live on a farm in Fairfax Station with six acres and ample acreage with good conditions for any type of gardening. I have sun and shade, good exposure and plenty of land. But, with all of the work associated with a farm, we just didn't have time to garden. About six years ago, I wanted to get rid of some old hay. I advertised the bales for sale on Craig's List and eventually sold them to a lady who just moved to Falls Church from Alaska. The lady wanted to start a Hay Bale Garden. Evidently, Hay Bale Gardening is popular in Alaska because of the Permafrost. I was intrigued with the idea.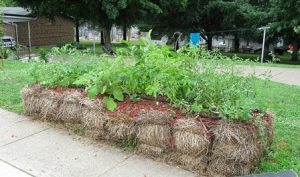 How do you describe Straw Bale Gardening?
Straw Bale Gardening is a type of raised bed and container gardening. I thought it would be good for someone like me who is getting older and cannot till or cultivate beds or get down on the ground to plant and weed. It is knee-level gardening. The bales are scruffy looking and aren't as attractive as a well-tended garden or bed, but the vegetable yields are well worth the effort. Also, the bales eliminate a lot of the plant diseases, pests and insects that plague regular gardens.
How do you get started?
You need to start with straw bales not hay bales. Straw is the leftover shaft of a grain crop, such as wheat, from which the seed heads have been harvested. The leftover shaft is cut and bailed. Straw is normally used for animal bedding in a barn or for garden mulch. On the other hand, hay is a grass crop used for animal feed. Either can be used for bale gardening, but straw allows for air circulation and retains water with less mold and mildew than hay.