Virginia Bluebells to Ring In the Spring
By Sharon V. Smith, Fairfax Master Gardener Intern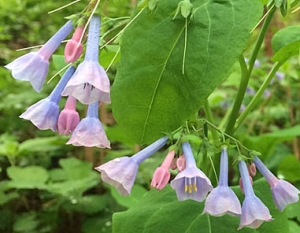 So many of us look forward to spring. We get excited when we start to see our crocuses and daffodils break through the soil, reminding us that this is just the beginning of something special. As the weather warms, we are eager to go outside to see what else could be in bloom.
For those of us in love with our native wildflowers, seeing the spring ephemerals put on their brief, yet charming display of beauty is simply magical. The ephemerals' glory is short-lived. Their brief stay makes it even more special to see them in a moist field along a path in the woods. It is hard to look away. We hope to remember them, and we try with our cameras to capture the wonder. Yet the picture is never the same as seeing them in person.
Virginia bluebells (Mertensia virginica) are one example of these masters of perfect timing. By definition, spring ephemerals bloom, set seed, and die back before the trees overhead block the sunlight with their leaves.  They have a small window of sunshine between snowmelt and leaf-out in which to grow, flower, be pollinated, and produce seeds. By June, the plants have utterly disappeared!
Technically, Virginia bluebells are not shade lovers, even though we find them as understory plants. They have developed a very efficient method of photosynthesis that helps accelerate growth before the leaves on the trees fully mature.
Lucky for us, Virginia bluebells are not prone to disease or pests and are rabbit resistant. Unfortunately, they are not deer resistant. Their blossoms last 10 to 14 days. They start off as beautiful pink buds, which open into bell-shaped flowers in shades of sky-blue to purple, on stems 18 to 24 inches tall. The leaves are bright green and oval. Bluebells self-sow into large patches when conditions are right. They prefer fertile, moist and neutral to slightly acidic soil.
The most reliable way to fill an area with bluebells is to plant a lot of seeds in late fall, just below the surface in moist soil. Not all seeds will germinate, yet a good number should sprout the following spring, with the flowers coming a year later.
Since these beauties do not take kindly to handling, try to leave them alone once they are established, or you may see them dwindle. If you must divide them, do it in early summer as the foliage starts to yellow.
Virginia bluebells can help to fill gaps in and around other perennials that are emerging. They spread slowly, so you may wish to plant them with columbines (Aquilegia spp.), bleeding hearts (Lamprocapnos spectabilis), and Jacob's ladder (Polemonium).
Thomas Jefferson discovered this remarkable plant blooming April 16, 1766, and he included Mertensia virginica in his estate gardens at Monticello. Now, some 250 years later, you can celebrate the bluebells at festivals in their honor at Merrimac Farm in Nokesville and at Riverbend Park in Great Falls. Large drifts of the beauties will be on view for your pleasure as you hike the trails at several area parks:
Riverbend Park in Great Falls,
Bull Run Regional Park (Bluebell Trail near the Atlantis Water Park)
Scott's Run Nature Preserve in McLean
Turkey Run Park in McLean
Meadowlark Gardens in Vienna
Merrimac Farm in Nokesville
Go out and enjoy the early spring. Look for this remarkable plant before it's too late. You would hate to miss it and have to wait another year.
Resources
• Virginia Bluebell, Mertensia virginica, Monticello VA
• Riverbend Park
• Bluebell Trail, Bull Run Regional Park
• 1000 Gardening Questions and Answers based on the "Garden Q & A", with additional material by
Leslie Land, The New York Times
If you wish to harvest the seeds yourself from your own plants, look for the shriveled fruit. You will find it appearing soon after blooming. For best results, plant those harvested seeds immediately in moist soil. If there is a need for longer storage, let the seeds dry in a protected place. Then 4 to 6 weeks before planting, place them in the refrigerator in moist sand, remembering to keep the soil moist until germination, and plant them several weeks before the last frost of spring.