2016 Holiday Gifts For Gardeners
by Ray Novitske, Fairfax Master Gardener
Gardeners love to share the fruits of their labor during the growing season. During this holiday season, you may be in search of a gift to return the favor and thank your favorite gardener. Like many hobbies, gardening has its own set of specialized tools, so non-gardeners may need help finding the right gift.
Here is our annual list of buying ideas for gardeners. This year we concentrated on unique gifts that gardeners may not already have and might really appreciate.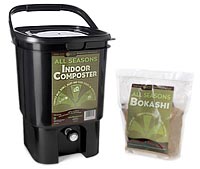 Indoor Kitchen Composter
It's often too cold to use our outdoor compost pile in the winter, and we rarely have enough material to fill it. Consider this small compost bin. It uses the Bokashi fermentation system to compost kitchen waste in less time than regular composting, making it great for the winter season. Its tight-fitting lid controls odors and flies — a necessity for indoor storage. $55 for the starter kit, $15 for the refill material.
uncommongoods.com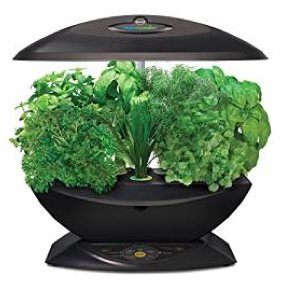 AeroGarden
A soilless growing pot with its own grow-light lid allows you to grow salad greens and small herbs on your kitchen counter without a window. The home hydroponic system is constructed with compact fluorescent lights and a control panel that automatically maintains the optimal growing conditions for light, water, and nutrient delivery. The package also comes with a gourmet seed pod kit containing two types of basil, chives, parsley, dill, and mint. $153
Aerogarden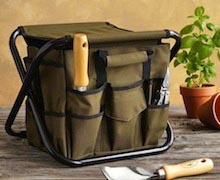 Gardener's Tool Seat
Spare your knees and keep your tools close at hand with a multi-function gardener's seat. Made of lightweight steel and water-resistant nylon, this handy tote combines the features of a folding chair with a tool bag. The bag detaches from the frame via hook-and-loop fasteners and has two carr