Plant Clinics Kick Off 2017 Season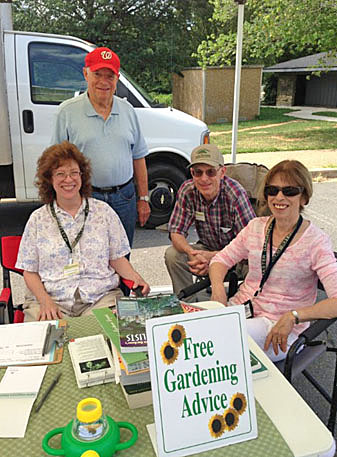 The Fairfax County Master Gardeners Association will once again provide free gardening advice to County residents beginning this month. We will be putting up our tents at farmers markets and setting up our tables in the entryways of local libraries to answer your questions. Our plant clinics begin the first week of May and continue until the end of September. Approximately 400 clinics are held every season. We are sponsored by the Fairfax office of Virginia Cooperative Extension. For a complete list of locations, days and times, visit our Plant Clinics page.
Having trouble organizing your new vegetable garden? Wondering about the carpenter bees swarming outside of your home? We will help you with all of your gardening questions. You can also bring a sample of your diseased plant, and we will send to our Diagnostic Lab for a free evaluation. The lab will also identify your insects, weeds and lawn diseases. Forms to include with your samples, along with directions on how to collect them, are also on this website. Visit the Diagnostic Lab page. Three different forms are listed there for you to print, fill out and bring along.
See you soon!
Use of Wood Ashes in the Garden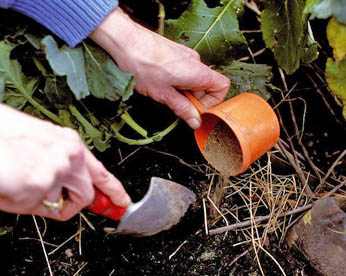 The improper disposal of ashes from fireplaces and wood stoves has caused several wildland fires already this year. Wood ashes retain enough heat to ignite other combustible materials for several days.
Officials with the Virginia Department of Forestry are alerting homeowners to this potentially serious threat to the safety of their families and homes. "Improper disposal of hot ashes can destroy homes, outbuildings and valuable natural resources," said John Miller, VDOF's director of fire and emergency response. "Please be careful and follow the tips below."
Dispose of wood ashes in a metal container that can be tightly closed. Douse with water; place the closed container outside your home away from combustible materials
Be careful with ashes around areas you might not consider as combustible during wet times, such as mulched flowerbeds and lawns that are drought stricken.
DO NOT place hot ashes in a dumpster, and DO NOT store in a paper, plastic or cardboard container
DO NOT assume the ashes are cold and pour them onto the ground where leaves can blow onto them or the wind can stir up sparks
Attention Gardeners:
Ashes from different types of wood vary slightly in their chemical composition, but all kinds of ashes can be used as fertilizer. They produce 50 percent to 70 percent lime and contain phosphorus, potash and trace elements. Gardeners can raise the soil's pH by applying wood ash to their soil. To avoid altering the pH too drastically, take a soil sample prior to the addition of cold ashes to your garden spot. If the soil pH value is below 5.8 and there is a lime recommendation on the soil test, then place a dusting of the cold ash on the surface and work it into the soil. Also, ashes may be used as a repellent. Sprinkle cold ashes beside row crops and on paths through the garden to discourage slugs and snails.
Class of 2019 Begins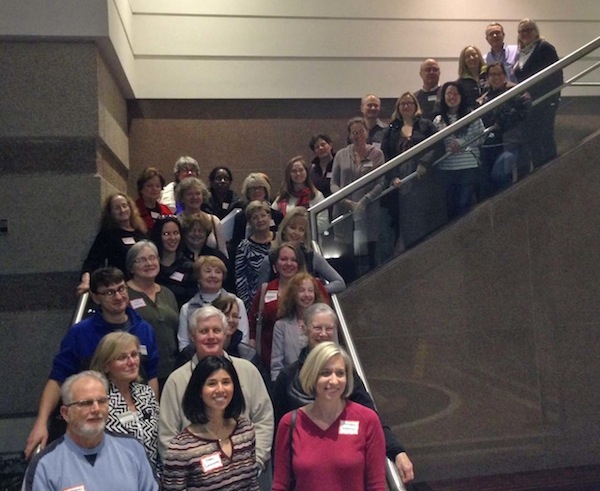 The Fairfax County Master Gardeners is proud to welcome our newest group of 40 interns as they begin their training to become certified Master Gardeners. The group will attend 10 three-hour classes annually for the next three years as well as help out at our diagnostic plant clinics, culminating with their certification in 2019.
Fairfax County Master Gardeners Honored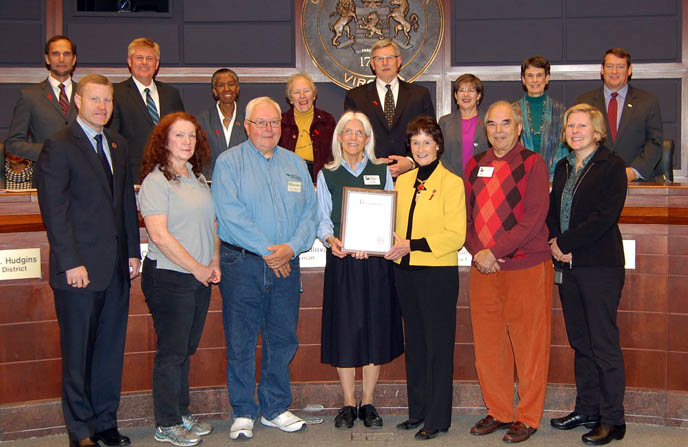 On Tuesday November 1, the Fairfax County Board of Supervisors recognized the 40th anniversary of the Fairfax County Master Gardeners Association. Throughout 40 years, the members of FCMGA have met the horticultural needs of Fairfax County residents through a variety of community service and outreach projects. County Board Chairman Sharon Bulova and Lee District Supervisor Jeff McKay sponsored the resolution to "congratulate the Fairfax County Master Gardeners Association for its 40th anniversary and dedicated service to Fairfax County residents."
The presentation was made at the Fairfax County Government Center. Chairman Sharon Bulova made the presentation along with Supervisor Jeff McKay. They were joined by the entire Board of Supervisors and by representatives of FCMGA.

FCMGA Member Publishes Second Book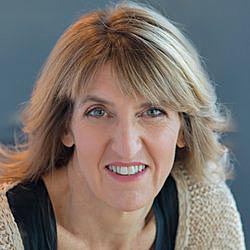 Master Gardener Martha Brettschneider has published her second book, "Blooming into Mindfulness: How the Universe Used a Garden, Cancer, and Carpools to Teach Me that Calm is the New Happy."
This book describes her transition from life as a professional economist to that of a suburban mom dealing with breast cancer. Gardening was a key instrument in her journey, and she uses it in the book as a metaphor for her transformation.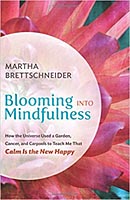 Brettschneider published her first book in 2005 on Sub-Saharan Africa with co-authors. She is also a blogger, award-winning photographer, and occasional contributor to FairfaxGardening.org. Her website is marthabrettschneider.com
"Blooming into Mindfulness" is currently available from Amazon in paperback and ebook.