Household Well Water Testing Program
By Heather Walton, Program Assistant, Fairfax VCE
Do you know what's in your drinking water? It's a question Fairfax Water Authority drinkers hardly ever think about, and, thankfully, don't have to, since water treatment centers test the water daily. But, if you're a well owner, ignoring the question could very well affect your health.
That's why the Virginia Cooperative Extension is working to raise awareness of their Virginia Household Water Quality Program (or VHWQP). This program gives well owners the opportunity to affordably test the quality of their water, as well as informative result interpretation meetings. When private water supplies are regularly tested (VHWQP recommends at least once a year), owners are able to detect any water problems early and will have access to information about possible treatment options.
How it works:
All well water samples for VHWQP go to Biological Systems Engineering Department at 
Virginia Tech where they test for the following:
iron
manganese
nitrate
lead
arsenic
fluoride
sulfate
pH
total dissolved solids
hardness
sodium
copper
total coliform bacteria
E. Coli bacteria
Once they have finished analyzing the water samples, you will receive your results with full confidentiality and an explanation of what the results mean.
What you need to do:
There are three major dates you will need to remember and register for, if you wish to get your well water tested. All of these events will take place in the Fairfax County Virginia Cooperative Extension Office (in the Pennino Building) located at: 12011 Government Center Parkway, Fairfax, VA 22035.
Kick-off: October 16, 2017 in the Virginia Room of the Pennino Building from 7:00 p.m. to 8:30 p.m. This is where you will receive your sample kits and will be given instructions on how to use them. After that, you are free to start sampling. You may purchase as many test kits as you would like. Each one costs about $55. Sign up and pre-pay online.
Sample Drop off Date: October 18, 2017 in the Stemmerman Room of the Pennino Building from 6:30 a.m. to 10:00 a.m. This is the only time you are able to drop off your test kits; otherwise, they cannot be tested.
Results Interpretations Meeting: November 15, 2017 in Room 200 of the Pennino Building from 7:00 p.m. to 9:00 p.m. While your results will come with an explanation of what the numbers listed mean, we like to offer a space where you can ask questions for further clarification, or what steps you can take to improve your water quality.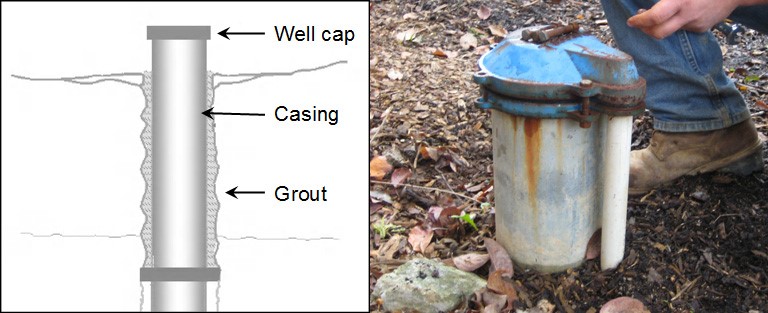 VHWQP has been helping private water owners improve their water quality since 1989 and has tested over 22,000 water samples. They offer a reliable and essential resource for homeowners, who still may be asking, what is in my drinking water?
Why keep wondering, when you can find out right now!
Use of Wood Ashes in the Garden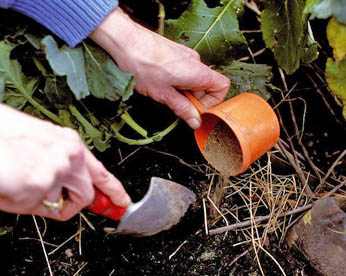 The improper disposal of ashes from fireplaces and wood stoves has caused several wildland fires already this year. Wood ashes retain enough heat to ignite other combustible materials for several days.
Officials with the Virginia Department of Forestry are alerting homeowners to this potentially serious threat to the safety of their families and homes. "Improper disposal of hot ashes can destroy homes, outbuildings and valuable natural resources," said John Miller, VDOF's director of fire and emergency response. "Please be careful and follow the tips below."
Dispose of wood ashes in a metal container that can be tightly closed. Douse with water; place the closed container outside your home away from combustible materials
Be careful with ashes around areas you might not consider as combustible during wet times, such as mulched flowerbeds and lawns that are drought stricken.
DO NOT place hot ashes in a dumpster, and DO NOT store in a paper, plastic or cardboard container
DO NOT assume the ashes are cold and pour them onto the ground where leaves can blow onto them or the wind can stir up sparks
Attention Gardeners:
Ashes from different types of wood vary slightly in their chemical composition, but all kinds of ashes can be used as fertilizer. They produce 50 percent to 70 percent lime and contain phosphorus, potash and trace elements. Gardeners can raise the soil's pH by applying wood ash to their soil. To avoid altering the pH too drastically, take a soil sample prior to the addition of cold ashes to your garden spot. If the soil pH value is below 5.8 and there is a lime recommendation on the soil test, then place a dusting of the cold ash on the surface and work it into the soil. Also, ashes may be used as a repellent. Sprinkle cold ashes beside row crops and on paths through the garden to discourage slugs and snails.
Fairfax County Master Gardeners Honored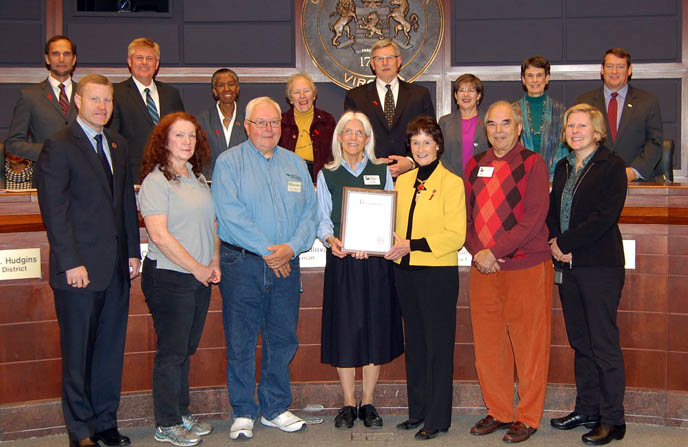 On Tuesday November 1, the Fairfax County Board of Supervisors recognized the 40th anniversary of the Fairfax County Master Gardeners Association. Throughout 40 years, the members of FCMGA have met the horticultural needs of Fairfax County residents through a variety of community service and outreach projects. County Board Chairman Sharon Bulova and Lee District Supervisor Jeff McKay sponsored the resolution to "congratulate the Fairfax County Master Gardeners Association for its 40th anniversary and dedicated service to Fairfax County residents."
The presentation was made at the Fairfax County Government Center. Chairman Sharon Bulova made the presentation along with Supervisor Jeff McKay. They were joined by the entire Board of Supervisors and by representatives of FCMGA.