Fairfax County Master Gardeners Speakers Bureau
By Elaine Homstad, Fairfax Master Gardener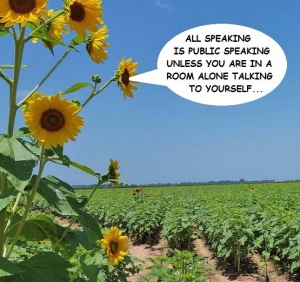 When people hear "Master Gardener Program," many may think of a group that is all about actively gardening. Yes, it is true that the common thread drawing people to the program is a love of (and passion for) gardening. But the Fairfax County Master Gardener program involves so much more: We are a nonprofit organization whose volunteers provide research-based horticultural information to home gardeners.
Community service is the keystone of our organization, and providing research-based horticultural information, tips, techniques and advice to home gardeners in the community is the way we accomplish our mission.
While the most highly visible (and most popular) program is our plant clinics held weekly at farmers' markets and County libraries from May to September, a year-round program available to local residents is our Speakers Bureau.
The Speakers Bureau is composed of volunteers who enjoy sharing their knowledge in lively and informative presentations to garden clubs, community groups and homeowners associations and at special events (Earth Day, fairs and festivals) and senior centers or retirement communities. All of our speakers are participants in the Master Gardener program, and they speak with expertise on their chosen topics.
The Speakers Bureau tries to fill as many requests as possible and has historically been able to accommodate 10 to 20 presentations per year. In recent years the most frequently requested topics have included composting, container gardening, xeriscaping, houseplants, gardening with native plants, shade gardening and gardens of the White House.
Suggestions for additional topics are welcome, and the Speakers Bureau coordinator always tries to find a good fit for a group and topic. Many of the groups that use the Speakers Bureau services are repeat customers, and they often request a specific speaker based on past experiences.
Programs can be tailored to fit a particular group's needs. Most presentations run from 45 minutes to an hour, with time for questions. Many of the volunteer speakers use creative visual aids, such as PowerPoint presentations, often including their own photographs. Helpful handouts are usually offered too, along with information about other resources available.
While some Master Gardener programs throughout the U.S. charge a fee, our program is offered as a community service, at no charge. Many groups offer us an honorarium as thanks, however. As a nonprofit association, we greatly appreciate such contributions.
For our members, who have a yearly requirement of volunteer service hours to meet, this activity is an excellent way to both serve our community and f