Holiday Plant Rescue – What to Do with Holiday Plants?
By Elizabeth Cornell Fake, Fairfax Master Gardener
The holiday decorations have been returned to boxes and bins and now it's time to think about what to do with the holiday plants. Here are a few pointers about what to do with the Poinsettias, Christmas Cacti, and Amaryllis bulbs often used for holiday décor.
Poinsettias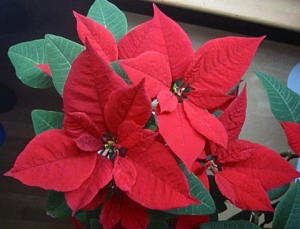 Poinsettias are one of the most popular holiday plants, especially the bright red varieties. Contrary to popular opinion, Poinsettias are not poisonous to pets and children although the milky sap exuding from the leaves can cause a rash for people allergic to latex. Poinsettias are not frost resistant so plan to keep them inside until spring. Leave them in a sunny spot where the temperature will be about 65 to 75 degrees F. Remember to water when the surface dirt is dry to a one-inch depth. As perennial shrubs, poinsettias can be planted outside for the summer, and but need to be repotted and moved back inside again before frost.
Most gardeners want to know how to make Poinsettias to rebloom the next season. It can be done, but it is tricky and requires a lot of patience and attention. The references below give instructions in case you want to try.
Christmas Cactus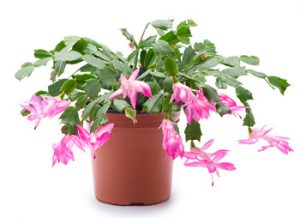 The Christmas Cactus is a popular gift and makes an easy-care, year-round house plant. As it is a tropical not a desert cactus, it requires a sunny place out of direct light and careful watering. Begin post-holiday care by pruning about a month after blooming ceases. Be careful to water just enough to keep the plant hydrated, watering when the top inch of soil has dried out. If you want blossoms for the next holiday season, manipulate the lighting, temperature and watering schedule to create dormancy. Between September to October, move the cactus to