What Were The Fruits of Your Labor?
By Sharon V. Smith, Fairfax Master Gardener
It is time for all our Student Gardener readers to send photos of the plants they grew. We want to know what you grew and what you have enjoyed eating from your garden this season. From the fruits of your labor, meaning the benefits of your hard work, did you have successes and/or disappointments?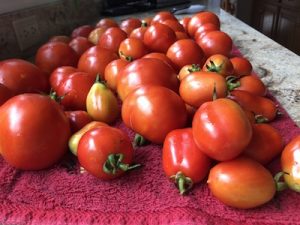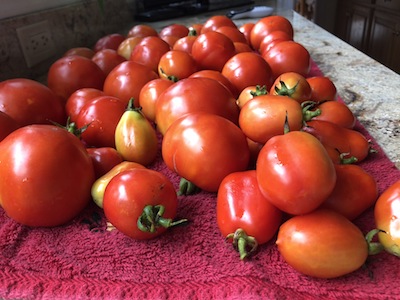 Here are photos of the fruits from my labor. As you can see, I helped grow a variety of tomatoes, known by its scientific name Solanum lycopersicum (variety names: Red Grape, Sun Sugar, Celebrity, Early Girl, Roma). Can you pick out the different kinds of tomatoes from the photos? Have you ever thought about how there can be so many different kinds of tomatoes and where the first tomato plant was discovered?
History tells us that the first cultivated tomato plant was grown in Mexico by the indigenous people, the Maya, the Nahua and others. During the 1500s, the tomato was introduced to the Middle East, Spain and Italy. Two hundred years later, in the late 1700s, the first known use of tomato sauce with pasta appears in an Italian cookbook.
In the 1750s, a Portuguese doctor, Dr. Sequeyra, visited Williamsburg, Virginia and told everyone he believed that the daily consumption (eating) of tomatoes was good for your health. As early as 1781, Thomas Jefferson began growing tomatoes at his home, Monticello. In 1876, Heinz Ketchup, a thick sauce made from tomatoes, was invented.
Tomatoes today are a popular food item and can be eaten raw like in salads, cooked into sauces like tomato sauce or pizza sauce and enjoyed as the condiment ketchup. It is hard to believe that all these favorite foods got their start from a plant that was first cultivated in Mexico a long time ago. Today you can still find many wild tomato plants growing through the Andes, also called the Andean Mountains from Chile to Columbia in South America.
Now that you have seen what I grew this year, I would love for you to share your stories of your family gardens. Tell of your experience and any challenges, of any pests/bugs eating the fruits of your labor. Let us know if your plants stayed healthy during the growing season or start to look sick, turn yellow/brown and die. Did you explore what may have gone wrong? Please share with us what you did so we can share with other Student Gardener readers about your achievements and your disappointments and please don't forget to include pictures. We will include your initials of your first and last names you provide, and your location. Please send everything to KidsCorner@fairfaxgardening.org. Thanks in advance for your contributions. Gardeners helping other gardeners helps us all.
References
Tomato, House & Garden, In Bloom at Monticello
A Passion for Tomatoes, Arthur Allen, Smithsonian Magazine, August 2008