From Pathways to Passageways –The DIY Garden Walkway
Part I: Design and Materials
By Elizabeth Cornell Fake, Fairfax Master Gardener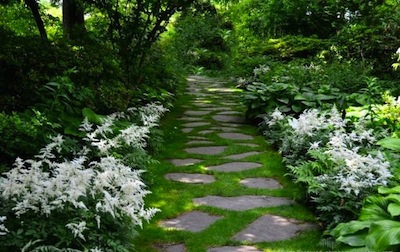 Now that you've cleaned the mud off your shoes for the umpteenth time, you are ready to turn the muddy trek from your back door to the garden shed into a permanent walkway. Most garden construction projects need professional planning and a significant budget to become a reality. But a garden path is a good candidate for a do-it-yourself project. With a good design, prudent choice of materials and a willing crew of workers, you can turn the muddy path into a passageway. As the first of two articles on garden passageways, this article focuses on path design and materials. The second part, to follow, will give instructions for building the walk.
Design and materials are partners in planning a garden walkway. Your design enhances the choice of building materials, and most materials can be coaxed into the design of your choice. Design considerations are listed first along with a section on building materials.
Design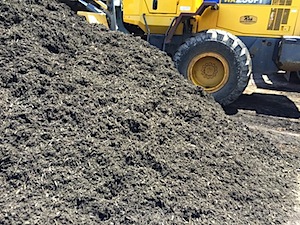 The first design consideration is how long the path will be, followed by where it will be in relation to buildings.
Will it be a personal walkway, meaning a strictly utilitarian trail for one? Or will it be social path allowing for two or more people? A personal path can be 2 to 3 feet wide, whereas a social walkway should be at least 1 or 2 feet wider.
Do you want to allow room to maneuver a wheelbarrow or garden cart? If this is the case, plan for a width of about 4 to 5 feet.
How close should it be to the sides of the house or other buildings? Do you want to plant flowers or groundcovers close by? If so, plan for an additional foot on each side.
Will the path be level or will it have a varied slope? To prevent runoff after the rain, the slope of the walk should not exceed 5 percent or 1 foot of rise for 20 feet of length. If there is a significant slope, either plan to level the path or introduce a terraced approach.
Do you want stone or brick edging on one or both sides? If so, allow for the extra width in your design.
Will the pathway be straight, angled or curved? The shortest path between two points is a straight line, but a curved or angled walkway adds a sense of motion and an illusion of size to a small area.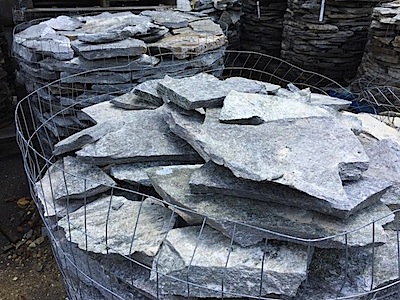 Design considerations have no perfect answers and are tradeoffs necessitating decisions. Be sure to draw the walkway to scale on paper before lifting a shovel to get started.
Materials
Take a trip to a building supply store or garden center to research materials for your path. As you explore the "stone yard," look at all the available alternatives and chat with the experts there. This is a good time to estimate
prices, compare quality and ask about home delivery. Good choices for surface materials include:
Gravel — a top choice with varying granularity and colors including many different weights from gravel dust to "River Jack." Gravel allows quick drainage on rainy days but is not biodegradable.
Flagstone — can be casual without hardscaping and is available in many different colors, widths and textures. Flagstone is often available in precut square and rectangular tiles.
Old bricks — a classic complement to brick homes and easy to find at garden centers. Bricks can be mortared with play sand or fine gravel.
Mulch — includes double shred and chips sold in varying colors. Mulch is a good do-it-yourself solution as it is readily available and a low budget alternative.
Grass — from sod or a newly planted cold season seed mix. Plan the grass path to complement your yard turf and allow sufficient width for mowing.
Combinations — gravel and flagstones, mulch and flagstones or grass and flagstones. Combined materials ensure longevity and stability.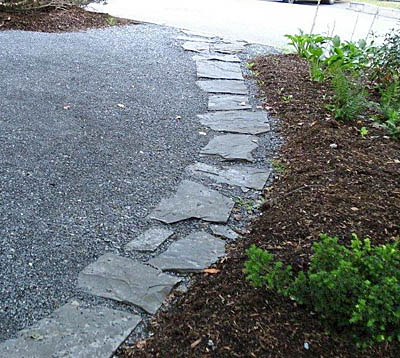 Resources
• Garden Walkways and Ground Covers for Your Yard,
Design Art and Architecture, February 2017.
• 9 Ways to Create a Garden Path, Midwest Living, n. d.
• Glorious Garden Paths, Better Homes and Gardens, n.d.